Sprouting a sense of community: Basehor group garden opens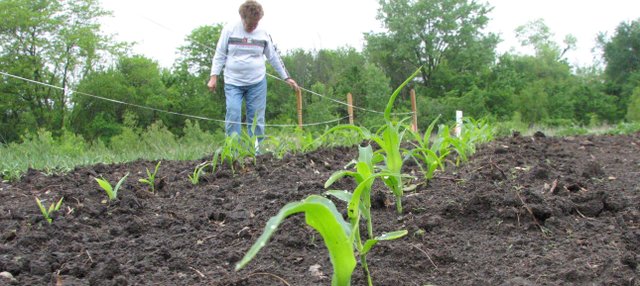 Grand opening
• A grand-opening event for the Basehor Community Garden will be noon to 2 p.m. May 12 at Basehor City Park, 15940 Leavenworth Road.
• Refreshments and tours of the garden will be available.
On Monday morning, Stephanie Swenson stood next to Pat Rogers, cup of coffee in hand, as they looked out at their vegetable gardens.
"What's your secret to growing beets?" Rogers asked Swenson.
She shrugged, smiled and replied, "Put them in the ground, and hope they grow."
Though the women did not stumble across any beet-growing secrets Monday, their chance meet-up at Basehor City Park demonstrated perhaps the most appealing aspect of the city's new community garden: the community.
Swenson, for example, has 10 acres of land on which she could plant a vegetable garden. But she would have to till the soil, kill weeds and who knows what else. And she'd be all by herself.
"It's a lot more fun to hang out with people," Swenson said.
Fifteen residents and families have joined this new community on the north end of the city park. By mid-April, each of the garden's 12 10-by-20-foot dirt plots had been claimed (three were split into smaller plots, making for 15 total) for the garden's first growing season.
In its first year, the garden is a certifiable hit with the Basehor community, gardener Amber Janouschek said.
"I think it's going to only get bigger," Janouschek said.
Janouschek's plot is a project for her family of five, she said, where they've planted tomatoes, peppers, cucumbers and cauliflower.
The family had thought about growing a garden for a while, she said, in an effort to save on grocery costs and enjoy some tastier vegetables.
"I'm throwing away so much money," Janouschek said. "I'd rather grow my own, which is cheaper and tastes better and is healthier."
The community garden presented an opportunity for plants to be safe from the flying footballs and other hazards that would threaten their survival in the family's back yard.
The family planted its vegetables about two weeks ago. As a first-time gardener, Janouschek said, it's comforting to have others around to offer tips. In fact, she wasn't even sure when the family should start planting until another gardener told her last month that it was time.
"Oh, we should be planting already?" Janouschek said. "We didn't even know."
Rogers, who has long planted tomatoes in her garden at home, welcomed the opportunity to plant some different vegetables when she heard of the garden's opening last year.
She planted her veggies around a month ago, she said, and her red potatoes and sweet corn are coming up nicely. Her beets, as she mentioned to Swenson on Monday, are a bit more slow.
But however her plants grow, Rogers said she likes the look and feel of the community garden. A wooden pergola and bench, newly built by a residential construction class at Basehor-Linwood High School, sit at the entrance, and plots are separated by mulch provided by the city of Basehor.
"It's just real nice," Rogers said. "I'm enjoying it."
The garden is a joint venture between Basehor PRIDE and the Basehor Park Association, with help from a $1,000 grant from the Kansas PRIDE organization. The city ran a water line to the area for a hose, as well.
Because of the garden's popularity this year, Basehor PRIDE president Chuck Wilderson said, it's likely to expand into more of the two-acre area it's been given on the end of the city park.
"We filled up, and we've got a waiting list," he said.
And when it comes to a community garden, it's the more, the merrier, Swenson said.
"It's just awesome, because I've met a lot of people," she said.