THS

softball swept by Braves in home finale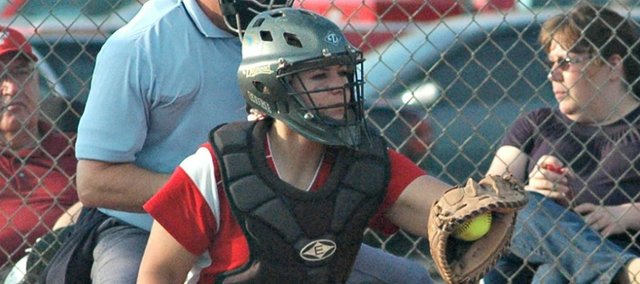 Photo Gallery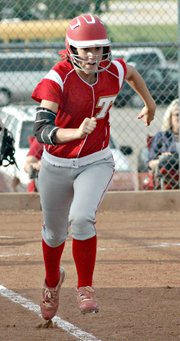 THS softball vs. Bonner Springs
The Tonganoxie High softball team closed out the home portion of its 2012 schedule Thursday with a doubleheader against Bonner Springs. The Chieftains dropped both games, losing by scores of 6-0 and 11-5.
Lack of offense once again plagued the Tonganoxie High softball team in a pair of losses Thursday against Bonner Springs. The Chieftains (6-12) managed 10 hits in 14 innings as they fell to the Braves by scores of 6-0 and 11-5.
"For the most part, we're hitting the ball," coach Lee Matzeder said. "We're making contact, but it's pop flies and ground balls right at people. It's just not the line drives that we need."
BSHS jumped out to an early lead in the opener, plating a pair in the top of the first inning. Sophomore pitcher Morgan Oroke opened the game with a pair of walks, and both runners came around to score before THS could get out of the inning.
A walk and an error allowed the Braves to add another run in the second, giving them a 3-0 advantage.
"Walks came back to bite us in the first game," Matzeder said. "The first two batters of the game walked and they both scored. I'm not blaming Morgan; she's out there giving it her all and we're there to back her up, but you can't defend against the walks."
The Braves added one in the fifth and two in the seventh for the final margin of victory. The Chieftains struggled to get runners on base throughout the game, as they amassed just four hits. Senior Kailan Kuzmic had the team's only multi-hit game, going 2-for-3 with a double.
Kuzmic was one of five seniors honored in a senior night ceremony between games. Others were Maggie Gripka, Amanda Holroyd, Haley Smith and Makayla Leslie.
The nightcap started off similar to the first game, as BSHS held a 2-0 lead after two innings. This time, though, THS had an answer. Matzeder's squad reeled off a five-run third inning to take its first lead of the doubleheader. Juniors Caly Ingle-Maxwell and Teal Waters had back-to-back RBI singles, Gripka was hit by a pitch with the bases loaded and Kuzmic roped a two-run double into center field.
The lead was short-lived, however, as the Braves knotted things up with three runs in the fifth. They went back in front with one in the sixth and took complete control with five in the seventh. The Chieftains couldn't find an answer, as they had just one hit in the final four innings.
THS, which has dropped eight straight games, will have two more opportunities to break its losing streak before the start of postseason play. The team will close out its regular season schedule on Monday with a doubleheader at Baldwin.
"In order for us to win, Morgan has to throw strikes, the defense can't make errors and we've got to get base hits," Matzeder said. "We have to do what we can do."
Game 1
Bonner Springs 210 010 2 — 7
Tonganoxie 000 000 0 — 0
Leading hitters: Kailan Kuzmic 2-3, 2B; Amanda Holroyd 1-2, 2B; Maggie Gripka 1-2.
Game 2
Bonner Springs 110 031 5 — 11
Tonganoxie 005 000 0 — 5
Leading hitters: Kailan Kuzmic 1-4, 2B, 2 RBI; Maggie Gripka 1-2, RBI; Caly Ingle-Maxwell 1-3, RBI; Teal Waters 1-4, RBI.