Chieftain baseball wins one, loses one on senior night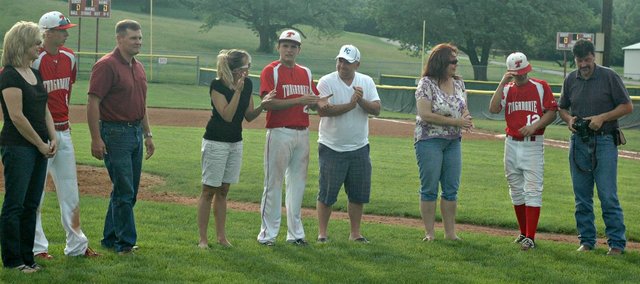 The Tonganoxie High baseball team wasn't able to cap off its regular season with a sweep, but three seniors got to taste victory one final time on their home field.
The Chieftains (5-15) split a doubleheader with Kaw Valley League opponent Bonner Springs Thursday on senior night. They won the first game by a 7-6 margin, then fell 6-1 in the nightcap.
The twin bill marked the final career home games for Austin Harkrader, Ben Williams and Tyler Freeman.
"Getting one here on (the seniors') last night is something special, and I hope they'll get to remember it," coach Mitch Loomis said. "It's kind of a sour taste losing game two, but getting one is better than none."
THS found itself down 5-2 in the opener, but battled back to tie things up. The Braves scored another run to go back in front in the late innings, but Loomis' squad scored the final two runs of the game to pick up the win.
"We came up with some timely hits, which is good," Loomis said. "We're getting a little confidence in the bottom of our lineup. We scratched the one-run lead and then held onto it, so that was good."
Things didn't go as favorably for the Chieftains in the second game, though, as BSHS erased a 1-0 THS lead with six unanswered runs.
"We just took a lot of selfish swings and couldn't get anything going," Loomis said. "The one time we did get something going, their shortstop made a nice play with two outs and the bases loaded."
The Chieftains will have plenty of time to prepare for the first round of regionals on may 14. They will head to the Bishop Ward regional, which will take place at Eisenhower Field in Kansas City.
"It's just about seeing how much better we can get in one week," Loomis said. "It's about taking a personal challenge to see how much better we can get. What we do with this week will determine whether we get to play another day or if we go home on night one."
Seeding and pairings will be announced next week. Other teams in the eight-team field are host school Bishop Ward, Atchison, Basehor-Linwood, Piper, Sumner Academy, Jeff West and Perry-Lecompton.