THS

girls soccer riding late-season surge
Chieftains have won four straight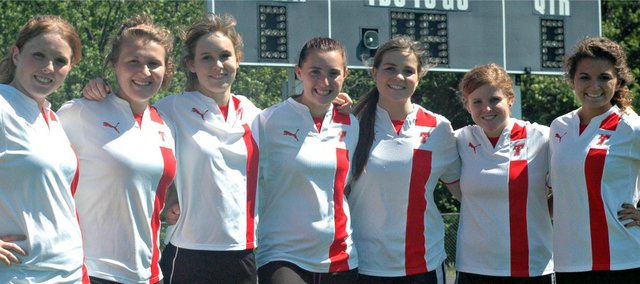 It took a while for the Tonganoxie High girls soccer team to find its footing this season. However, the Chieftains are seemingly hitting their stride at the right time.
After opening the 2012 season with one win in its first eight games, THS has rattled off five victories in its last seven games, including a current streak of four straight. Coach Justin Seever's squad went 3-0 this week, including Monday's 9-0 drubbing of Washington, Wednesday's 2-1 overtime victory at Basehor-Linwood and Thursday's 4-2 win at Ottawa.
With one game remaining on the regular season schedule — Tuesday's senior night matchup with the Basehor-Linwood — The Chieftains sport a 6-8-1 record.
"We're getting there," Seever said. "We're playing really well. It's crazy because we could finish one game out of .500. Who would have thought that when we were 1-5-1?"
After Monday's lopsided win, THS found itself in a tightly-contested battle Wednesday against the Bobcats. Junior Molly Welsh gave the Chieftains a 1-0 lead with a goal in regulation, but a shot attempt by a BLHS player took a bad hop and got by sophomore goalkeeper Emma Stilgenbauer to force overtime.
The luck was on the Chieftains' side in the extra period, as they benefitted from another errant play. Just 3:55 into overtime, Welsh tried to cross the ball to Taylar Morgan in front of the goal. A Bobcat defender cut off the pass, but the ball deflected off of her and into the net, giving THS the victory.
"We kind of had a free goal on their end, so it was kind of even," Seever said. "We were pretty sound defensively."
The game was the Chieftains' second overtime contest of the season. They needed extra time on April 9 at Piper, but the game ended in a 0-0 tie.
Just one day later, Seever's group pieced together a less dramatic victory at Ottawa. THS jumped out to a 3-0 lead in the first half and never looked back. Ottawa scored two goals of its own, but the Chieftains added a fourth goal to ice the win in the second half. Welsh, sophomore Emily Soetaert, senior Lindsey Truesdell and sophomore Madison Simmons had one goal apiece.
"We could have been up 5-0 in that first half," Seever said. "We were scoring goals and creating opportunities, then we just shut them down in the second half."
With Tuesday's regular season finale just around the corner, Seever said keeping the team's current win streak alive could pay dividends in the postseason. THS is currently jockeying for rank in its regional field with teams like De Soto and Bonner Springs, and another win could potentially translate to a higher seed.
"We're like one game in the loss column behind those teams," Seever said. "If they lose another one, we would have a better record."
Additionally, Seever noted the tie against Piper could work in the Chieftains' favor when the final standings are decided.
Tuesday's varsity action, set for 4:30 p.m., will also serve as senior night. It will be the final regular season home game for Truesdell, Shyanne Gergick, Sarah Williams, Lindsey Cox and Alyssa Miller, Parker Osborne and Ashley Henley.