Chieftain softball can't end skid at Baldwin
THS

swept in regular season finale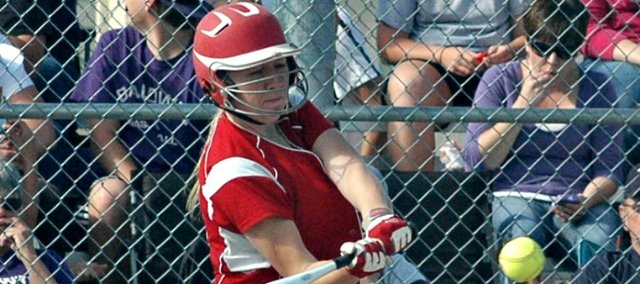 If the Tonganoxie High softball team wants to bring its current losing streak to and end, it will have to do so in the postseason.
The Chieftains (6-14) closed out their regular season schedule on a sour note Monday, losing both ends of a doubleheader at Baldwin. Walks plagued coach Lee Matzeder's squad all night, as THS gave the Bulldogs (12-8) 13 free base runners and fell by scores of 16-2 and 14-4.
"In order for us to have an opportunity to be successful, three things have to happen: pitchers can't walk people, we can't have errors and we have to average 7-10 runs a game," coach Lee Matzeder said. "If one of those three things doesn't happen, we're in trouble. That's just the way it is."
THS grabbed an early lead when Marissa Martin drove in a run in the first inning, but the Bulldogs went in front for good with two runs of their own in the bottom of the frame. BHS took total control one inning later when it plated four runs. Kaitlyn Jorgensen drove in Kylie King, Hailey Cope scored on a wild pitch and two more runs crossed the plate on a defensive error.
The Chieftains got one back on an RBI ground rule double by Amanda Holroyd in the third, but that's all the offense they could manage. BHS scored three in the third and seven in the fourth, and the mercy rule went into effect midway through the fifth.
A three-run first inning gave THS some early momentum in the second game. Kailan Kuzmic led off the game with a solo home run to center field and Jaycee Knipp knocked in two to give the Chieftains an early 3-0 advantage.
Once again, though, the early THS lead was short-lived. The Bulldogs responded with four in the bottom of the first to go in front. Emily Simpson led the charge with a two-run single.
Simpson was one of four BHS players with a multi-hit game in the nightcap. Others were Cope, Jorgensen and Kaysha Green. Jorgensen and Green each drove in three runs.
"We've been struggling a little lately with adjusting to some of the pitchers, but I feel like we're finally adjusting," Bulldog coach Ginger Crist said. "We've got our timing down and our hitting is right where it needs to be at this time of the season."
BHS extended its lead to 9-3 with five runs in the third, highlighted by a three-run triple by Jorgensen. The Chieftains' only other run came in the fourth when Kuzmic tripled and scored on a Martin sacrifice fly.
Kuzmic, who went a combined 4-for-7 in the doubleheader, is now hitting an even .500 (10-for-20) with six extra base hits in the month of May.
"Kailan has kind of been our spark plug," Matzeder said. "She's been hot lately with the bat."
The Bulldogs scored three in the fourth and two in the fifth to put the mercy rule in effect for the second straight game.
With regular season play now in the books, THS will have a week to prepare for regional competition, which begins on May 14. The Chieftains are in the Basehor-Linwood regional, which also includes Atchison, Bonner Springs Bishop Ward, Piper, Jeff West and Perry-Lecompton.
"We're going to kind of fiddle with some defensive changes and maybe some batting order changes. It can't hurt," Matzeder said. "We may make a few changes for the regional and see what happens."
Game 1
THS 101 00X X — 2
BHS 243 7XX X — 16
Leading hitters
BALDWIN — Hailey Cope 3-4, 5 RBI; Sierra Hall 4-4, 2B; Madeline Brungardt 1-1, 3B, 2 RBI; Haley Schwartz 2-3, RBI.
TONGANOXIE — Marissa Martin 2-3, RBI; Kailan Kuzmic 2-3; Haley Smith 2-3; Amanda Holroyd 1-3, 2B, RBI.
Game 2
THS 300 10X X — 4
BHS 405 32X X — 14
Leading hitters
BALDWIN —Hailey Cope 3-3, 2B, RBI; Emily Simpson 2-3, 2B, 3 RBI; Kaitlyn Jorgensen 2-3, 3B, 3 RBI; Kaysha Green 2-4, RBI.
TONGANOXIE — Kailan Kuzmic 2-3, 3B, HR, RBI; Jaycee Knipp 2-3, 2 RBI; Lainy Walker 2-2.