Chieftain soccer blanks Basehor-Linwood on senior night
THS

ends regular season with five straight wins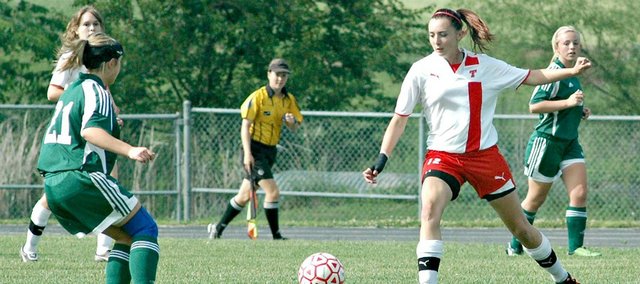 Photo Gallery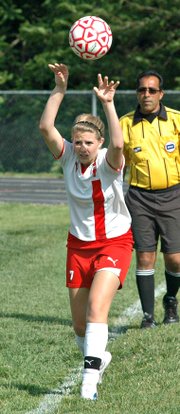 THS girls soccer vs. Basehor-Linwood
The Tonganoxie High girls soccer team wrapped up its regular season Tuesday with a 2-0 win over Basehor-Linwood.
What a difference one month can make.
On the evening of April 5, the Tonganoxie High girls soccer team dropped its fifth straight game to open the season. Fast forward to Tuesday evening, and the same Chieftain squad won its fifth straight in a 2-0 senior night victory over Basehor-Linwood.
The victory not only capped off the regular season, but also a 6-2 finish to a season that started with a 1-6-1 record.
"That sure beats our 0-5 start," coach Justin Seever said. "That's a good stretch. The main thing is we're playing more as a team. We've got a lot of momentum and we've got a lot of confidence."
Following a scoreless first half, THS (7-8-1) missed on a scoring opportunity less than three minutes after the break. Junior Molly Welsh caught BLHS goalkeeper Ellen Farris out of position, but her shot attempt sailed wide of the goal. The Chieftains had several other scoring chances in the following minutes but couldn't cash in.
THS finally hit paydirt when freshman Morgan Galvin got by Farris and tapped the ball into the net with 16:05 remaining. Less than a minute later, Galvin crossed the ball to sophomore Emily Soetaert, who punched it in for a 2-0 lead.
That's all the offense the Chieftains needed to secure the victory, and the defense stiffened in the final minutes to preserve the shutout.
"(Galvin) is a freshman with the potential to get a lot of minutes in the future," Seever said. "She's a good player when she's on. She got a goal and an assist, so hats off to her for saving the day on senior day."
The Chieftains found themselves in a stalemate with the Bobcats in the early going, as neither team found the net in the first half. It looked as though THS might take the lead when Sarah Williams found a lane to the goal just before the break, but Farris blocked the shot attempt with less than 10 seconds left on the clock.
The win marked the final regular season home game for seven Chieftain seniors, who were honored in a pregame ceremony. Those recognized were Williams, Ashley Henley, Parker Osborne, Alyssa Miller, Lindsey Cox, Lindsey Truesdell and Shyanne Gergick.
"Today, we had a good chance to get our seniors a lot of minutes," Seever said.
THS will now begin preparation for regional play. Brackets will be released Saturday. The Chieftains don't yet know their seed, but Seever said their late-season surge was enough to earn them a home game in the first round.
First half scoring
No scoring
Second half scoring
16:05 — Morgan Galvin (Tonganoxie)
15:20 — Emily Soetaert (Tonganoxie)