Five questions: Avoiding scams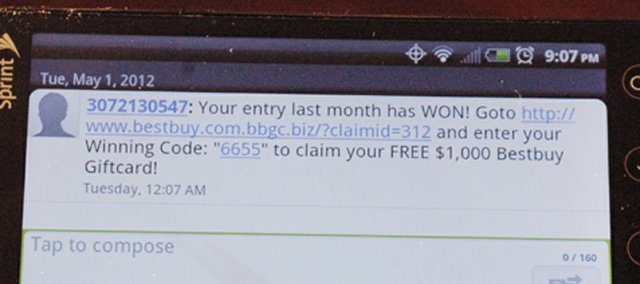 Thousands of Kansans have registered their phone numbers with the Do Not Call Registry, but telemarketers are finding new ways to get your money or personal information. Kansas Attorney General Derek Schmidt offers the following tips to avoid scams.
Q: How do I get on the Do Not Call Registry?
A: Either call 1-888-382-1222 or go to ag.ks.gov/nocall. Once you have been on the registry for 31 days, for-profit businesses are prohibited from calling you.
Q: What is one of the more recent scams?
A: Consumers throughout the state have reported being called by someone claiming to be technical support for Microsoft or other software companies. The caller tells the consumer that his or her software license has expired and must be renewed. They may ask for payment over the phone or direct the consumer to a website where they can enter their payment information.
Q: Are some scams being conducted with text messages?
A: Yes — if you receive unsolicited text message offers you have not signed up for, be suspicious. Be especially wary of text messages claiming you have won a prize and asking you to respond to claim it.
Q: What other methods are scammers using?
A: Scammers are also getting around no-call laws by finding ways for you to contact them, often with unsolicited postcards or emails offering extended car warranties, magazine subscriptions or get-rich-quick or work-from-home schemes.
Q: How do I file a complaint about a telemarketer?
A: You can file a complaint with our Consumer Protection Division by visiting our website ag.ks.gov.