Stockman signs to throw at Emporia State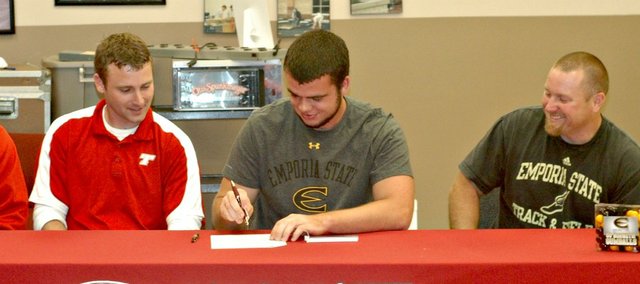 By definition, track and field is a spring sport. But for Tonganoxie High senior Tyler Stockman, nothing could be further from the truth.
Stockman, a shot putter and discus thrower for the Chieftains, has been seen practicing at Beatty Field at any time of the year. He's competed in national meets and climb the ladder in the state rankings.
On Wednesday in the THS Chieftain Room, all that hard work paid off. Stockman signed a national letter of intent to throw for Emporia State University.
"Emporia State was my first choice from the beginning," Stockman said. "I'd also been looking at Benedictine, but I didn't feel like it was right in terms of size of school and all that.
"I really gelled well with the team at Emporia State, and I really liked the environment over there."
During his final high school season, Stockman has been a staple in the Chieftains' throwing lineup. He's recorded numerous top finishes in both events, and his efforts haven't gone unnoticed. He recently qualified for the 85th annual Kansas Relays, in which he took 25th in the shot put.
Stockman's accolades actually started rolling in before the school season ever began. He spent the offseason throwing against competition from across the country and capped off his training with a second-place finish at the USATF Youth Indoor Championships on March 10 in Normal, Ill.
Before hanging up his red and white uniform, Stockman said he'd like to garner first-place honors at the Kaw Valley League meet, which will take place Thursday at Piper. Additionally, he wants to make some noise at the state meet, set for May 25-26 in Wichita.
Boys coach Scott Peavey echoed those thoughts, adding it was all the time Stockman put in during the offseason that led to the success he's experiencing late in his career.
"It's paid off just in the position he's in on the state level," Peavey said. "He's one of the top shot putters and discus throwers in 4A. It's just pure worth ethic. He has absolutely earned every single inch of that discus and shot put throw, and I'm excited to see what he has the chance to do over the next two weeks."
Once officially becoming a Hornet in the fall, Stockman will throw shot put and discus, and will begin to familiarize himself with the hammer throw. He admitted that he'd likely redshirt in his first season, which would give him an opportunity to adjust to competition at the collegiate level.
"I'd love to jump right into it, but I'd also kind of like to redshirt," Stockman said. "I'd like to put some muscle on and be the best that I can be."