Bulldog baseball seeded third in regional, will face Pleasant Ridge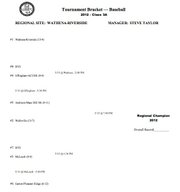 After going an even .500 through its first 18 regular season games, the McLouth High baseball team has earned a No. 3 seed in its Class 3A regional bracket. The Bulldogs (9-9) will face sixth-seeded Pleasant Ridge (6-12) at 5 p.m. Monday at Riverside High School in Wathena. The teams split a doubleheader on April 2.
If MHS defeats the Rams, it will advance to Tuesday's semifinal and take on No. 2 Wellsville (13-7), which received a first-round bye. The Bulldogs opened the season with back-to-back losses to WHS on March 29.
The regional championship game will be at 7 p.m on Tuesday, with the winner advancing to the Class 3A state tournament. State action will begin on May 25 in Manhattan.
MHS will wrap up its regular season slate at 4:30 p.m. Thursday when it welcomes Oskaloosa to town for a doubleheader.
First round games (Monday, May 14)
No. 1 Riverside receives bye
No. 2 Wellsville receives bye
No. 3 McLouth vs. No. 6 Pleasant Ridge — 5 p.m.
No. 4 ACCHS vs. No. 5 Maur Hill Academy — 5:30 p.m.