Food: Treat mom to a kid-and-dad-proof Mother's Day breakfast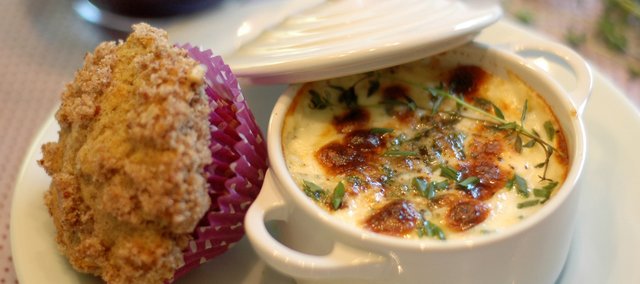 A few tips
• To make breakfast simpler, skip the muffins and serve toast or store-bought pastries instead. To make it more elaborate, set out a wedge of Brie cheese and some fresh fruit.
• If you don't have individual ramekins, you can bake multiple servings of eggs in a single, larger dish, such as an 8-by-8-inch casserole dish.
• Don't forget something to drink. Have an adult make coffee, or pick up a box of assorted teas mom can choose from for a ladylike hot drink.
• Leftover Blueberry Soup? Swirl it into oatmeal, or pour it over yogurt, pancakes or ice cream.
• Last but not least, when it comes to moms, a few flowers go a long way. Cut some from the yard and put them on the table, or pick up a small bouquet while you're at the grocery store.
Cookies with candied rose petals. Multi-cheese soufflés. Homemade Hollandaise sauce. Champagne cocktails.
Sure, many elegant gourmet recipes would be great for Mother's Day brunch. Problem is, they require cooking and grocery shopping skills that, at least if yours is a typical household, are possessed exclusively by mom.
Isn't she supposed to be getting a break this Sunday?
Here's an at-home breakfast menu that features simple extras such as fresh herbs — not fancy techniques or hard-to-find ingredients — to make the dishes elegant enough to make mom feel special but easy enough for dad and the kids to whip up.
Herbed Baked Eggs call for just three ingredients plus a few fresh herbs to dress them up, adding garden flavor and a gourmet feel. Garnished with a dollop of yogurt and a slice of lemon, kid-friendly Blueberry Soup looks restaurant-ready. Finally, Buttermilk Spice Muffins require buttermilk and chopped nuts, but all of the other ingredients are probably already in your kitchen. They even have whole-wheat flour. Mom should approve!
Herbed Baked Eggs
Start to finish: 15 minutes
Servings: 1
2 tablespoons heavy cream
1/2 tablespoon butter
3 large eggs
1 teaspoon fresh chives, chopped
1/2 teaspoon fresh thyme, chopped
1/2 teaspoon fresh rosemary, chopped
Salt and pepper to taste
Preheat broiler and position rack about 4 inches from broiler. In an individual gratin dish or ramekin, combine heavy cream and butter; set on heavy baking sheet. Broil for 3 minutes or until cream and butter are bubbly.
Meanwhile, in a small bowl, crack eggs, leaving yolks intact. Add eggs to hot cream mixture and top with chives, thyme and rosemary. Sprinkle with salt and pepper, if desired. Place back under broiler for 4 to 6 minutes or until whites are cooked but still soft. The eggs will continue to cook once removed from the oven. Allow to rest for 1 minute. Serve hot.
Nutrition information per serving: 370 calories, 31 g fat, 15 g saturated fat, 0.5 g trans fat, 615 mg cholesterol, 230 mg sodium, 2 g carbohydrates, 0 g fiber, 1 g sugar, 20 g protein. Daily values: 30% vitamin A, 2% vitamin C, 10% calcium, 15% iron.
(Recipe from 2012 issue of Hy-Vee Seasons Health)
Blueberry Soup
Start to finish: 2 hours (30 minutes active)
Servings: 2 generous
One 1-pound bag frozen unsweetened blueberries
1 cup water
5 tablespoons sugar
Two 1/4-inch-thick lemon slices
1 cinnamon stick
Pinch of salt
1/2 teaspoon vanilla extract
Additional lemon wedges and low-fat vanilla yogurt (or frozen vanilla yogurt) for garnish
In heavy medium saucepan over high heat, bring first seven ingredients to boil, stirring until sugar dissolves. Reduce heat to medium-low and simmer until berries are very tender, about 15 minutes.
Discard lemon slices and cinnamon stick. Puree half of soup in blender or processor. Transfer all of soup to medium bowl and refrigerate until very cold. (Can prepare two days ahead.)
Divide soup between two bowls or large goblets. Serve with lemon wedges and dollop of vanilla yogurt.
Nutrition information per serving: 240 calories, 1 g fat, 69 g sodium, 0 mg cholesterol.
(Recipe from February 1995 issue of Bon Appétit, as listed at epicurious.com)
Buttermilk Spice Muffins
Start to finish: 40 minutes (15 minutes active)
Servings: 1 dozen muffins
1 cup sugar
1/2 cup butter (1 stick), softened
3 extra-large eggs
2 cups flour
1/2 cup white whole-wheat flour
2 teaspoons baking soda
1/2 teaspoon salt
1 teaspoon nutmeg
1/2 teaspoon cinnamon
3/4 cup plus 1 tablespoon buttermilk, well-shaken
Topping:
1 cup chopped pecans or walnuts
1/2 cup sugar
1/2 teaspoon cinnamon
1/2 teaspoon nutmeg
Preheat oven to 375 F. Grease a muffin tin (or line with paper cups). In a large mixing bowl, beat butter with sugar until light and fluffy. Add eggs and beat until well mixed.
In another bowl, whisk together flour, whole-wheat flour, baking soda, salt and spices. Add half of the dry ingredients to the butter mixture. Then mix in the buttermilk. Add the final amount of the flour mixture, beating just until combined. The batter may still be a bit lumpy.
In a small food processor or blender, whiz together the topping ingredients. Pulse until nuts are very finely ground and ingredients are well-blended.
Spoon batter into prepared muffin tin, filling each cup about 3/4 full. Sprinkle the top with a rounded tablespoon of the sugar nut topping. Bake for 20-25 minutes, or until a toothpick inserted in the middle of the muffin comes out clean. Cool muffins in the tin for 5 minutes, then carefully lift out to a cooling rack.
(Recipe from disneyfamily.com)
— Lawrence Journal-World features reporter Sara Shepherd can be reached at 785-832-7187.