McLouth softball earns top seed, first-round bye in regional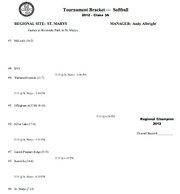 McLouth High's success on the softball field this season has earned the team a top seed in its Class 3A regional bracket.
The Bulldogs (16-2) will have a first-round bye in the St. Marys regional, which begins Monday. They'll face the winner of No. 4 Riverside (11-7) and No. 5 ACCHS (8-10) at 3 p.m. Tuesday in semifinal acton at Riverside Park. MHS swept both teams during the regular season. It picked up back-to-back wins over ACCHS on April 16 and followed suit with a sweep of Riverside on May 2.
The regional finals are set for 6:30 p.m. on Tuesday. The winner will advance to the Class 3A state tournament, set for May 25-26 in Manhattan.
The Bulldogs have one more doubleheader scheduled before the start of regional play. They'll welcome Holton to town Thursday for a pair of make-up games originally scheduled for April 30.
First round games (Monday, May 14)
No. 1 McLouth receives bye
No. 4 Riverside vs. No. 5 ACCHS — 3 p.m.
No. 2 Silver Lake vs. No. 7 Pleasant Ridge — 4:45 p.m.
No. 3 Rossville vs. No. 6 St. Marys — 6:30 p.m.