THS

baseball draws Piper in first round of regionals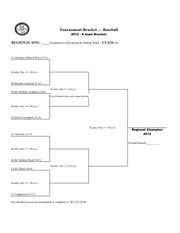 The Chieftain baseball team will see a familiar foe in the first round of its Class 4A regional.
THS, the No. 7 seed in the Bishop Ward regional, will face No. 2 Piper at 7 p.m. Monday at Eisenhower Field. The Chieftains (5-15) dropped a pair of games to the Pirates (14-6) on April 18.
If THS wins, it will face the winner of No. 3 Atchison (11-6) and No. 6 Bishop Ward (10-9) in Tuesday's semifinal. The Chieftains suffered back-to-back losses against Bishop Ward in their season opener on March 26. They have not faced Atchison this season.
The regional title game will be at 7 p.m. on Tuesday. The winner will earn a spot in the Class 4A state tournament, which begins May 25 in Salina.
First round games (Monday, May 14)
No. 1 Jeff West vs. No. 8 Basehor-Linwood — 1 p.m.
No. 4 Sumner Academy vs. No. 5 Perry-Lecompton — 3 p.m.
No. 3 Atchison vs. No. 6 Bishop Ward — 5 p.m.
No. 2 Piper vs. No. 7 Tonganoxie — 7 p.m.