Teacher retiring after 33 years in Basehor-Linwood schools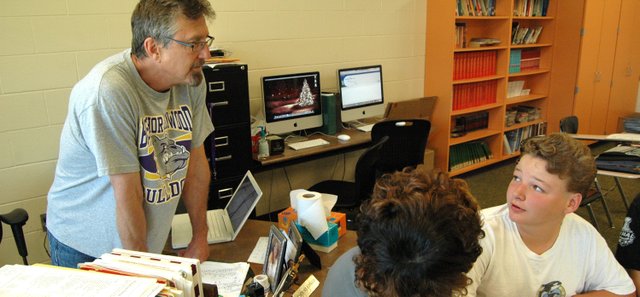 Reception for retirees
The Basehor-Linwood school district will have a reception to honor its three retiring teachers, Steve Myer of Basehor-Linwood High School and Tom Cooper and Jack Morris of Basehor-Linwood Middle School, as well as Gaylene Oberndorfer, who is retiring as secretary for Basehor-Linwood Virtual School.
The reception will be 3:30 to 5 p.m. Monday at the district offices, 2008 N. 155th St. in Basehor. Refreshments will be served.
Around 20 years ago, Matt Johnson was furious. His shot at perfection was ruined.
His Basehor-Linwood Middle School eighth-grade boys basketball team had just lost its last game of the year after rolling through the rest of its schedule undefeated.
But soon after the game ended, veteran teacher and coach Tom Cooper gave him something to think about that wiped the bitter disappointment from his mind. Johnson, then just a few years out of college, still remembers his words.
"He pulled me aside and said, 'Remember: This is not about you,' " Johnson said. " 'This is about the kids. Your job is to make them better. This isn't for you to get glory.' "
With lessons like that, Cooper is the man who taught him how to teach, Johnson says. Now, after 33 years of teaching students — and other teachers — in Basehor-Linwood schools, Cooper is retiring.
Since Cooper took a teaching job in Basehor right out of college in 1979, he has worked in five buildings, taught students in four grades and coached three sports. And though he still loves his interactions with students and his co-workers, he said, it's time to move on.
"I have always told myself if I didn't quite have that pep, 100 percent zest for it, then it was time to get out," Cooper said.
Cooper has taught at BLMS since it formed in 1988 with the consolidation of the two middle schools in Basehor and Linwood. Before that, he taught elementary and middle-school students in Basehor.
He's the only eighth-grade reading teacher the school has ever had. In fact, he helped create the school's reading curriculum when the school split the subject from English in the mid-1990s.
Assistant superintendent Mike Boyd was the principal at BLMS when he and Cooper worked together to design the reading program. The change got students reading more and led to improved assessment scores, Boyd said. And it didn't hurt that Cooper made the subject fun.
"Kids want to be in his classroom," Boyd said, "which is a great attribute to have as a teacher."
Christine Sanders was a seventh-grade student of Cooper's in 1994. Now she is a colleague, teaching science at BLMS. She remembered that he would often kick back and put his feet up on his desk, tossing questions at his students and creating an environment of friendly discussion.
Now, she said, she can tell there's a lot of effort behind that casual demeanor.
"When you talk to him about students, you can see how much he cares about them," Sanders said.
In his class Monday, Cooper met with students to go over their reading goals for the year. Using an online system that awards points to students for taking tests on books they've chosen to read, Cooper sets individual goals for each student, based on his or her reading level. The students who meet their annual goal get to join a class trip to the PowerPlay entertainment center in Shawnee in May.
Such injections of fun into the classroom are one way Johnson, a history teacher at BLMS, learned from Cooper soon after he started teaching in 1989, he said. When he had a free period, he often sat in Cooper's classroom to see him interact with students.
"That first three or four years, I was his shadow," Johnson said. "I did what he did."
It's not hard for him to keep a smile on his face while teaching, Cooper says, as he truly enjoys being around members of the middle-school age group that others might find difficult.
"One day, they come in acting all mature, acting all serious and stuff," he said. "The next day they come in tripping all over themselves."
Cooper, who will continue in a part-time role as athletic director and a coach at BLMS next year, said he's stuck around the district through three decades because of the bonds he's formed with his colleagues and community members.
Those connections were evident when a member of his family had health problems a few years ago, he said. A former student called Cooper and said she had a present to help cheer him up during the rough time. The student knew that Cooper, like her, was a huge fan of the Beatles. So she gave him two tickets from the Kansas City, Mo., stop of the band's famed 1964 U.S. tour.
Cooper is still touched by that gesture, he said.
"That sums up, right there, the spirit of the people in Basehor," Cooper said.