Williams becomes Chieftains' first bowling signee
THS

senior inks with Newman University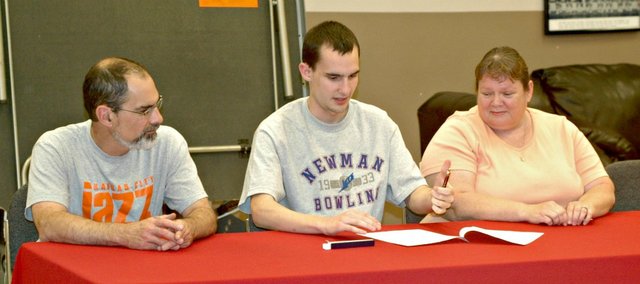 During his four years at Tonganoxie High, senior Wesley Williams could be found all throughout the halls. He was a mainstay in the school's music and drama departments, as well as the Science Olympiad program.
Despite Williams' long list of extracurricular activities, sports were never really a top priority. So it came as somewhat of a shock — even to him — when he recently learned he had accomplished a first in the history of Chieftain athletics.
Williams became the school's first-ever bowling signee when he signed a national letter of intent with Newman University last Thursday in the THS Chieftain Room.
"The fact that I'm the first one here in Tongie to sign for bowling, it's like I'm really leaving a legacy now," Williams said. "Just the fact that I'm the first to set anything for athletics, that's kind of big. I'm not the biggest or strongest guy, but I can still set records here for athletics."
Tonganoxie may not have a bowling alley of its own, but that didn't stop Williams from picking up the game at an early age. His parents — both bowlers themselves — got him in a bumper league when he was four years old, and the rest is history. He recently finished a youth league at KC Bowl in Kansas City, Kan., and said his average currently sits in the mid-to-high 160s.
Last year, Williams included bowling on an interest form at a college fair, but it wasn't until 2012 that he caught the attention of Newman coach Billy Murphy. Murphy contacted Williams earlier this semester and said he was eligible for a full-ride academic scholarship, as well as a spot on the Jets' bowling roster.
"I actually bowled a tournament down in Wichita the Saturday before (Murphy) called me," Williams said. "He said he found my scores online and was impressed with them. He said I need a little polishing up, but I could get to that competition level by the end of my freshman year."
During his time at NU, Williams plans to double major in biology and biochemistry. He joins a Jets team that recorded seven top-10 finishes in 2011-12, including an eighth-place performance at the USBC sectional championship in Dallas.