KC

Chief McGraw visits cousin's classmates at Basehor Intermediate School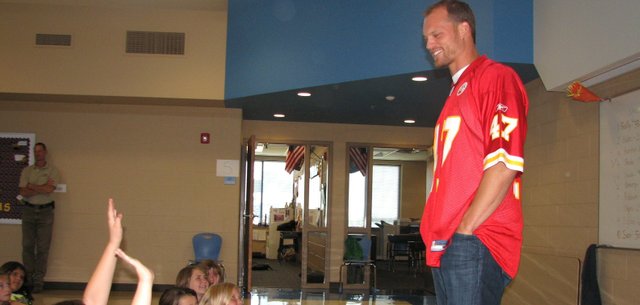 When Jace Friesen told his friends he had a cousin who played for the Kansas City Chiefs, they were skeptical.
"My friends couldn't believe it at first," said Jace, a fifth-grader. "They thought I was lying."
But they got proof on Monday, when Chiefs safety Jon McGraw stood in front of his second cousin's classmates at Basehor Intermediate School, wearing his No. 47 jersey.
Jace and his family had asked McGraw — who is the first cousin of Jace's father, Andy — to visit the fifth-graders at BIS as a reward for their hard work and good performance on state assessment tests.
Hard work is the reason McGraw has forged a 10-year NFL career after playing football for the first time as a scrawny seventh-grader, he told the students.
"When I first started playing football, I wasn't very good," McGraw said.
McGraw, 33, grew up on a farm in the town of Riley and graduated as part of a class of 44, he said, before playing football at Kansas State University. He was drafted by the New York Jets in 2002 and came to the Chiefs in 2007.
He told the students that if they continued to perform well in school, it would help them down the road. Even as an NFL player, he said, he used a lot of skills he learned during school, including the ability to sit and absorb information during hours of meetings each week.
"You've got to be able to learn fast," McGraw said.
And his business degree from K-State would come in handy soon, he said. He hasn't signed a contract to return to the Chiefs for next season, and his playing days are likely winding down, he said. He'll likely look to land a job in financial planning, commercial real estate or another industry, he said.
After one student asked him if he celebrates touchdowns by spiking the ball on the ground, McGraw laughed. Because he plays on defense, he's scored only one touchdown in his NFL career.
"My touchdown celebration needs a little bit of work," McGraw said. "I may need some help from you guys."
After his talk, students crowded around him, holding in their outstretched hands anything they could find for him to autograph: backpacks, jerseys, water bottles, hats or just a piece of notebook paper.
Fifth-grader Colyn Lucas, his voice still loud with excitement, showed off his iPod that was now decorated with McGraw's signature.
"He's awesome at football!" Colyn said.