Late lead not quite enough as
THS

baseball falls to Piper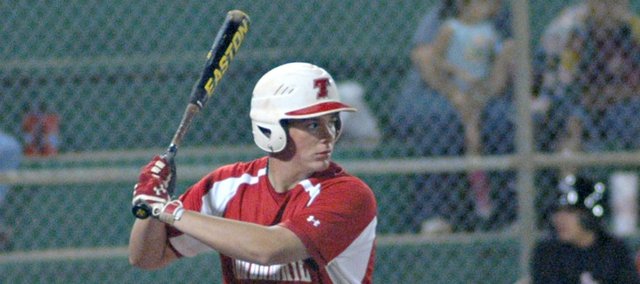 Kansas City, Kan. — When the Tonganoxie High baseball team took on Piper in Monday's regional opener, it didn't look like a team that went 5-15 in the regular season. However, when it was all said and done, the Chieftains fell just shy of a victory.
No. 7 seed THS (5-16) held a one-run lead in the bottom of the seventh, but the second-seeded Pirates (15-6) scored two in the frame to escape with a 7-6 victory at Eisenhower Field.
"It's very easy for a group of young men to check it in, sitting 5-15 and going up against a team that's 14-6," coach Mitch Loomis said. "It would have been real easy for us to mail it in last week, but we didn't. We worked hard and gave ourselves a chance.
"This group really understood the journey and the process. Those first 20 don't really matter. All you've got to do is show up (Monday) night and we peaked at the right time."
The Chieftains struggled at the plate in the early innings, but stayed within striking distance thanks to some clutch defensive plays. They caught a runner leaving early on a sacrifice fly attempt in the first and gunned down a runner trying to steal in the second.
Both plays ended their respective innings and killed potential scoring threats by the Pirates.
"That's just a testament to our kids and their preparation," Loomis said. "To beat great teams, you've got to take advantage of every little opportunity and be able to execute in those situations."
PHS grabbed a one-run lead in the bottom of the fourth inning, but THS came roaring back with a five-run fifth. All three Chieftain seniors played a role in the scoring outburst. Austin Harkrader drew a walk with the bases loaded, Tyler Freeman drove in two on an RBI groundout and Ben Williams beat out a ground ball with a runner on third. THS added one more on a Pirate fielding error to go up 5-1.
Piper answered with four runs in the sixth to even the score, but Williams came through again. He legged out another RBI infield single in the seventh inning to put his squad back in front.
"You couldn't have found another guy in the world I would have rather had up there," Loomis said. "He's been the best hitter for us for the last four years consistently. I wouldn't have rather had Derek Jeter up there."
Sophomore Travis Woods, who relieved Freeman on the mound in the sixth, tried to keep the lead intact in the final frame, but ran into some early trouble. He hit the first batter of the inning, then later allowed a one-out walk. He gave himself some breathing room by picking off a runner at second base, but Piper then loaded the bases and ended the game with a two-run single.
Although he admitted the loss was a tough one to swallow, Loomis praised the seniors for their grit and determination — particularly in the final week of the season. He added the game was a good learning experience for the underclassmen, who he hopes will continue to follow the example set by the class of 2012.
"They need to take what a phenomenal group of seniors showed them," he said. "If nothing else, when we're celebrating a championship in a couple years, it will be because of what those guys learned from the seniors tonight."
Score by inning
THS 000 050 1 — 6
PHS 000 104 2 — 7
Leading hitters: Ben Williams, 2-4, 2 RBI; Tyler Freeman 1-3, 2 RBI.