THS

golf wins regional, secures state bid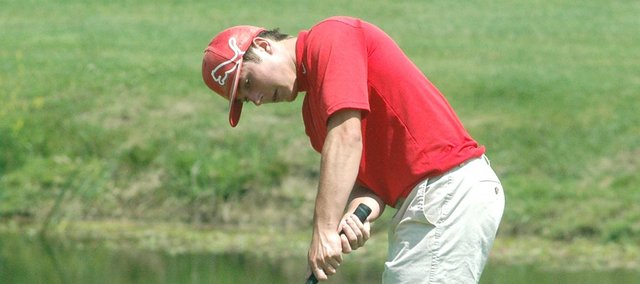 Bonner Springs — The stage keeps getting bigger and the stakes keep getting higher, but the wins keep coming for the Tonganoxie High golf team.
The Chieftains picked up their fifth tournament win of the year Monday in Class 4A regional action, guaranteeing them a slot in next week's state tournament. They carded a team score of 322 to defeat second-place finisher Piper by three strokes at Sunflower Hills Golf Course. It was the team's first regional title in school history.
"I was trying to tell our crew that if we were around 320, we'd be in good shape," coach Jared Jackson said. "There are different things that go into that. For one, it's regionals, the kids put some pressure on themselves. Also, the course played really difficult (Monday). Sunflower is a tough course."
Senior Colby Yates earned his sixth individual title of the season with a 75. He was joined in the top-10 by sophomore Drew Sandburg, who finished fifth with a 79, and senior Tanner Hale, who took seventh with an 81. Junior Aaron Williams, senior Kody Campbell and junior Tyler Hall rounded out THS' individual scoring with marks of 87, 89 and 91, respectively.
The Chieftains bested a tournament field that included 2011 state champion Topeka-Hayden and 2010 champ St. James Academy. Hayden finished third with a score of 335 and St. James took fourth with a 341, so neither qualified for state as a team.
"Topeka-Hayden and St. James, I feel bad for them," Jackson said. "I think it's comfortable to say those both of those teams are potentially top-five teams in the state. From a regional standpoint and qualifying for state, that was a tough field."
THS and Piper will have a week to prepare for state tournament action, which is set for Monday at Dub's Dread Golf Club in Kansas City, Kan. Neither team is a stranger to the course, as both practiced there regularly throughout the 2012 season. The Chieftains made a visit to the course once a week, while the Pirates called it home all season.
Venue aside, though, Jackson assured that the upcoming week will be business as usual his squad.
"We try to make a routine. We have some things that are set with the way we handle the postseason," he said. "The biggest difference this year is we're in our backyard, but we do think the same way. It's a big tournament, but you try to go back to the basics."