Chieftain softball opens regionals with win over Atchison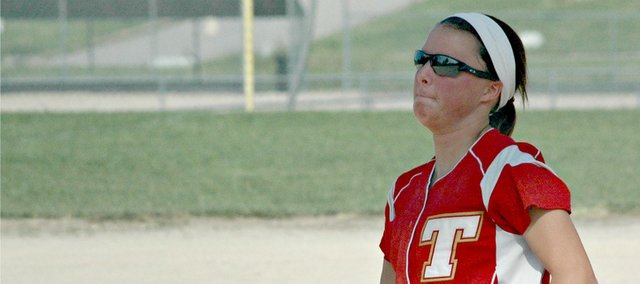 Basehor — Despite entering regional play on a 10-game losing streak, the Tonganoxie High softball team found a victory with its season on the line.
The seventh-seeded Chieftains (7-14) came back from an early two-run deficit to defeat No. 2 seed Atchison (14-5) by a 5-3 margin Monday at the Basehor Field of Dreams complex. It was THS' first victory since April 24 at Pleasant Ridge.
Things got off to an unfavorable start for coach Lee Matzeder's team, as AHS jumped out to a 2-0 lead in the first inning thanks to a walk and a two-run home run. It looked as though the Chieftains might be in for a rough day at the plate, as they went hitless through the first two innings.
But the tables started to turn in the third, when THS put up three runs to take the lead. Senior Haley Smith opened the frame with a single and sophomore Morgan Oroke bunted her way on, then both came around to score on an double by sophomore Marissa Martin. Senior Makayla Leslie drove Martin in on an RBI single of her own.
Leslie was one of two Chieftains with a multi-hit game. She went 2-for-4 with a double. She was joined by sophomore Caly Ingle-Maxwell, who went 2-for-3 with a double.
Atchison got one back in the bottom of the frame and threatened to go back in front, but junior Savannah Bailey made a diving catch in center field, stranding runners at second and third.
"As far as defense, Savannah has just been playing awesome in the outfield," Matzeder said. "She made a catch that saved two runs for us."
THS added two more in the fourth to go in front for good. Ingle-Maxwell and senior Amanda Holroyd started the inning with back-to-back singles, then junior Jaycee Knipp plated Ingle-Maxwell on an RBI groundout and Holroyd scored on a fielding error.
The Chieftains' lead was threatened again in the bottom of the inning when Atchison loaded the bases with one out, but Oroke retired the next two hitters to avoid any damage.
"Morgan has pitched better, but she's pitched worse," Matzeder said. "In that kind of situation, you're hoping for none or one — just not the big hit that's going to score two or three. We just had to bear down and play tough defense."
Oroke picked up the win in the circle, striking out two hitters and walking seven in seven innings.
With the win, the Chieftains advance to today's semifinal, where they'll take on No. 3 seed Bonner Springs (12-8) at 4:45 p.m. The Braves defeated Bishop Ward in the first round, 19-3.
Score by inning
THS 003 200 0 — 5
AHS 201 000 0 — 3
Leading hitters: Makayla Leslie 2-4, 2B, RBI; Marissa Martin 1-4, 2B, 2 RBI; Caly Ingle-Maxwell 2-3, 2B.