Record flock:
BLHS

Class of 2012 contains 6 Eagle Scouts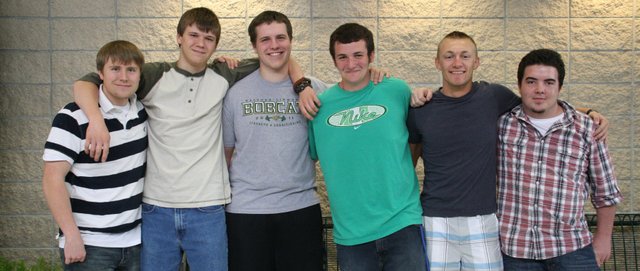 Commencement
Basehor-Linwood High School's 2012 commencement begins at 7:30 p.m. today in the school's large gymnasium.
Doors will open at 5:30 p.m. Additional seating will be available across the hall in the auditorium, where a video feed of the ceremony will be shown.
A reception for graduates of Basehor-Linwood Virtual School will also take place at 5:30 p.m.
Graduates and their families can purchase DVD recordings of the ceremony afterward for $10 each, with proceeds going toward the Basehor-Linwood Education Foundation's teacher grants and student scholarships. Anyone interested in buying a DVD can call Ashley Razak at (913) 724-1396, extension 130.
They could have quit after the little-kid games turned into tests and merit badges. A lot of them do, Sam Fahrenkrug says.
They could have quit when they became high-schoolers, their minds preoccupied with sports, girlfriends and cars, growing annoyed with the sixth- and seventh-graders who outnumbered them at troop meetings. And they certainly could have quit when they were faced with the final step, their Eagle project. They wouldn't have been the first, Skylar Ross says.
"A lot of Scouts just say, 'Forget it,' " Ross said.
It's a tiny fraction who never do quit. But among them are six of the 166 graduates who are set to walk across the stage tonight during Basehor-Linwood High School's commencement.
Fahrenkrug, Ross, Levi Draper, Ben Kamm, Colin Riley and Alec Smith are all Eagle Scouts. As far as leaders of Basehor Boy Scout Troop 169 can tell, six Eagle Scouts is a record for a BLHS graduating class. And it's likely not close, Scoutmaster Bill Brown said.
"It's a pretty substantial number," Brown said.
Across the United States, Brown said, about four of every 100 Boy Scouts reach the Eagle level. And the number of Scouts who join the Basehor troop each year is a far cry from 100.
The Scouts attribute their achievement to sheer willpower, they said.
"The hardest part about getting your Eagle is just staying with it," Ross said.
Eagles must earn 21 merit badges, log community-service hours and serve in leadership roles in their troop. But the big hurdle, they said, is the Eagle project: They must produce a product for a nonprofit entity, organizing a team and raising funds for budgets that can stretch into the thousands.
To raise the $1,000 he needed to fill in a 100-foot flower bed at his church, Fahrenkrug stood in front of the congregation and asked for help. It wasn't easy, he said.
"I don't speak in front of 300 people every Sunday," Fahrenkrug said.
Smith finished his project — a mock storefront display at the Basehor Historical Museum — about four years ago. He says the $4,000 undertaking was a lot of fun, but his session with his Eagle Board of Review was a different story.
He remembered that one member of his board — made up of area Scout leaders — had been involved in scouting for many years. He simply stared at Smith while he answered questions about his project and his scouting career from other board members. Then, when the others were done, the man fired more questions at him for 15 minutes.
"It was the most nerve-wracking time of my life," Smith said.
When Ross was planning his project, a greenhouse cabinet at Glenwood Ridge Elementary School, it took him four tries before his Eagle Board allowed him to proceed. Every material, tool and safety measure had to be documented.
Though the experience may have left him resenting his board members at the time, he feels confident now that he knows how to get things done, he said.
"In the long run, finishing it is going to be one of the best things I've ever done," Ross said.
Smith said his favorite memories from scouting would be the camping trips. But the Eagle project, he said, would have lasting impact.
"It gives you the skills necessary to go out in the world and really take control of your life," Smith said.
Smith plans to attend Kansas State University-Salina, where he'll enroll in a professional pilot program. (Fahrenkrug, an admitted class clown, imagined his reaction one day when he hears from his airplane seat that Smith is his captain: "No! Let me out! No!")
So why did one class produce such a big crop of Eagle Scouts?
Fahrenkrug says he thinks it's probably just chance. But Brown, the scoutmaster, said the group's closeness could have something to do with it.
"If I can point to any one thing, I think they kind of helped each other," Brown said.
In any case, he said, it's a rare event for a town Basehor's size.
"I don't think we'll see that number again for a while," he said.