Basehor-Linwood Class of 2012 turns toward its future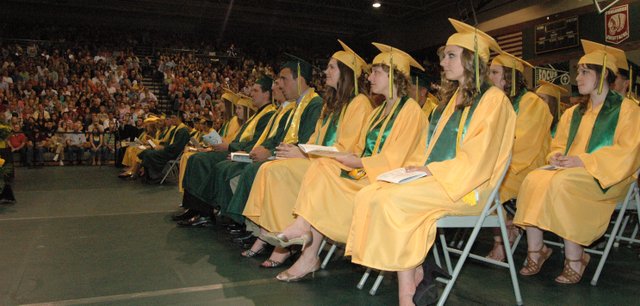 Photo Gallery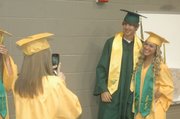 Basehor-Linwood High School Class of 2012 graduation
Top scholars
BLHS 2012 Valedictorians
Emily Engler
Jesse Hiss
Garret Kahle
Benjamin Kamm
Danae Leppke
Kristin Mance
Jacob Peterson
Ashlee Richardson
Alexis Tate
Salutatorians
Alexandria Bright
Grant Moyer
The Basehor-Linwood High School Class of 2012's list of accomplishments is long. But Thursday, Marcas Box told his classmates to think instead about their missteps.
"High school is about making mistakes," Box said to a crowd of soon-to-be graduates during his senior address at the BLHS commencement ceremony.
Those mistakes are what will help them learn and ensure a successful future, said Box, who won a competition to deliver the student address Thursday. And the future, he said, is what matters now.
"Graduates, these should not be the best years of your life," said Box, who plans to study electrical engineering at Kansas University in the fall. "That is a fate I do not wish on any of you. If state assessments and 12-page research papers were the best years of your life, you've most likely done something wrong."
And though that may be true, the Class of 2012 left its mark on Basehor-Linwood during its high school years, as Principal Sherry Reeves noted during her address to students.
The class helped BLHS win a Governor's Achievement Award and a National Blue Ribbon Schools Award nomination. Of its 166 members, 84 percent plan to attend a college or university, and they've racked up about $3.5 million in scholarships. And the class has contributed to two state titles in basketball and one (possibly two) in softball.
English teacher Michelle Vielhauer, who teaches seniors, told the graduates their futures were bright. She recalled a visit to her honors classes from a group of people from South Africa. The visitors led the class in a song, and one of its lines rang true for the graduates, she said: "You're gonna be somebody."
One graduate, Caroline Dickinson, said before the ceremony that she knows exactly what she's going to be. She has the next 10 years of her life mapped out: She'll study English literature and biology at Benedictine College in Atchison, then go to medical school, then after one year of practicing she'll work for a year in central Africa, providing care for refugees.
"I plan a lot," Dickinson said.
Though she can see her future clearly, she said, she wasn't yet sure how she felt about leaving high school.
"It still hasn't sunk in that this will be the last time I'll be required to be here," Dickinson said.
But graduate Steven Coy, as he stood outside the school after the ceremony, said he knew what he would miss about "a good four years" at BLHS. Coy, who's headed to Kansas State University, said the class he was leaving behind was a tight-knit group.
"I would say it's like my second family," Coy said.