THS

golf seniors ready for last shot at state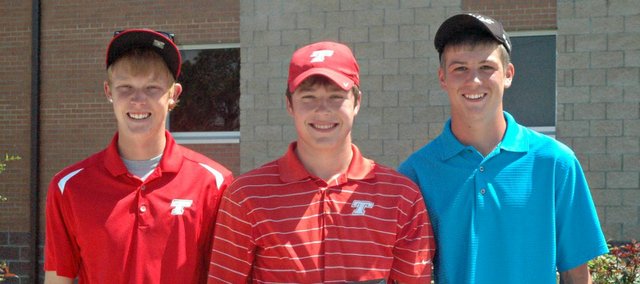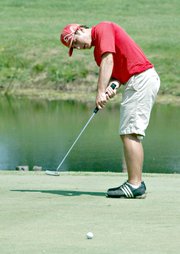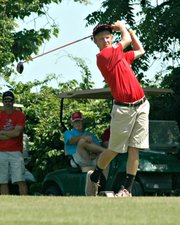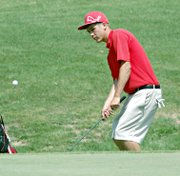 Qualifying for state is hardly a new feeling for the Tonganoxie High golf seniors. Colby Yates, Kody Campbell and Tanner Hale have already been on two state tournament teams during their Chieftain careers.
However, that didn't stop the nerves from taking over at last Monday's regional tournament in Bonner Springs. THS hit the links against some of the state's competition, including 2011 state champion Topeka-Hayden and 2010 champ St. James, but only the top two teams could extend their season another week.
Competition aside, the Chieftains got the job done by winning their first regional title in school history.
"I think it was a relief that we made it through regionals," Yates said. "There's always that fear of not making it — especially with the team we have this year — because we knew if we made it, we have a good chance of winning it all."
That dream could become a reality Monday when the seniors tee off for the last time as THS golfers at Dub's Dread Golf Club.
The venue is hardly new to the Chieftains, who have practiced at the Kansas City, Kan., course once a week this season, but they won't be the only team competing in familiar territory. Piper, the second-place finisher at this week's regional, also calls the course home.
"(The familiarity) helps a little bit, but then Piper plays there pretty much every day," Hale said. "Against all the other teams, it will definitely give us two a big advantage."
Other teams in the tournament field are Iola, Coffeyville-Field Kindley, Holton, Abilene, Buhler, Hesston, Wichita-Collegiate, Maize South, Paola and Fort Scott.
Success came early and often for the Chieftains during the regular season. Including the regional title, they recorded five tournament wins in 2012 — one more than the last two years combined. They broke the school record for a lowest tournament score three times, highlighted by a mark of 297 on May 9 at the Kaw Valley League tournament.
The list of accomplishments goes on and on, but according to Campbell, none of them would compare to adding one more piece of hardware to the school's trophy case next week.
"There's been a lot of focus. Our minds are just on golf," Campbell said. "That's all we want to focus on for these next couple days so we can get it done at state. Getting that state title, it would mean the world to us."
Hale will open competition THS competition on Monday with a 9 a.m. tee time. Junior Aaron Williams will then tee off at 9:20 a.m., followed Campbell and sophomore Drew Sandburg at 9:30 a.m., junior Tyler Hall at 9:50 a.m. and Yates at 10:30 a.m. Yates, Sandburg and Hale will begin competition on hole No. 1, while Hall, Campbell and Williams will start on hole No. 10.
More on the 2012 golf seniors
— This year's graduating class helped the THS golf program to its first tournament win in school history at the 2010 Sunflower Classic. Since then, the Chieftains have won eight more tournament titles.
— In addition to two KVL titles and this year's regional title, the trio of seniors also helped lead the way to state tournament appearances in 2010 and 2011. The Chieftains finished fourth two years ago and second last year.
— Yates, who will play collegiately at the University of Missouri-St. Louis, has won 15 individual titles in his Chieftain career. Six of them have come this season, including his first-place score of 75 at this week's regional. He was named the THS Golfer of the Year in each of the last three seasons.
— Hale has medaled nine times in his career with five of those performances coming in 2012. He shot a career-best 78 on May 3 at the Junction City Invitational.
— Campbell has earned six medals, including three this season. He set a new career low with a 77 at this year's league meet. He was named the team's most improved golfer in 2011.