Local track athletes aim to qualify for state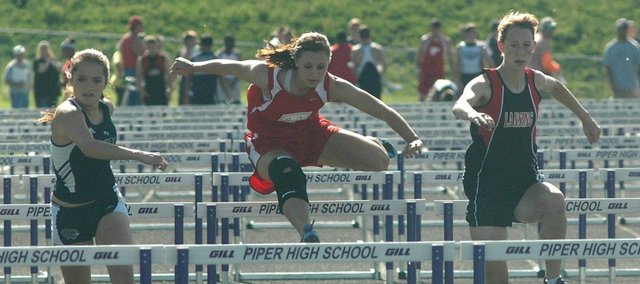 The Tonganoxie High and McLouth High track and field teams will be in regional action Friday.
The Chieftains will travel to Baker University's Liston Stadium in Baldwin City for Class 4A competition, while the Bulldogs will head to Sabetha High School for Class 3A action. The top four athletes in each event will qualify for the state meet, set for May 25-26 at Wichita State's Cessna Stadium.
Here is a list of local athletes to keep an eye on as Friday's regionals get underway:
Junior Jenny Whitledge (Tonganoxie)
Whitledge, a THS record holder in four events, won last year's state championship in the high jump. Her season-high jump of 5-6.25 ranks second in the state in Class 4A behind Independence High's Shania Vannester. Whitledge also ranks fifth in the long jump (17-2), sixth in the 100-meter dash (12.4) and eighth in the 300-meter hurdles (47.53).
Junior Hannah Kemp (Tonganoxie)
Kemp has medaled several times this season in the javelin and 100-meter hurdles. Her season-best hurdles time of 16.15 ranks 11th in the state and first among athletes in the Baldwin regional. Her top javelin mark of 117-8 is 12th in the state and first among Baldwin participants.
Junior Holley Thompson (Tonganoxie)
Thompson recently took second in the discus at the Kaw Valley League meet, but her throw of 101-6 was the meet's longest mark by a Class 4A athlete. She'll have her work cut out for her Friday, as four of the top 16 marks in the state were set by athletes in the Baldwin regional.
Sophomore Haley Griffin (Tonganoxie)
Griffin and Whitledge have finished at or near the top of the high jump ranks in nearly every meet this season. Griffin's season high mark of 5-4.25 puts her just behind Whitledge in the state rankings.
Senior Patrick Rachford (Tonganoxie)
Rachford has been a big part of the Chieftains' success in distance events this season. He recently took fifth in the 800- and 1,600-meter runs at the KVL meet.
Senior Matt Briggs (Tonganoxie)
Briggs has also been a big contributor in distance competition. He finished sixth behind Rachford in both events at the league meet.
Senior Tyler Stockman (Tonganoxie)
Stockman, who recently signed to throw collegiately at Emporia State, is currently ranked in the shot put and discus. His season-long discus throw of 148-3 ranks eighth, while his mark of 49-4 in the shot put ranks 13th. Stockman will face a tough field Friday, as several of the state's top competitors in both events will throw at the Baldwin regional.
Senior Dylan Jacobs (Tonganoxie)
Jacobs has seen consistent improvement in the high jump this season, eclipsing the six-foot mark multiple times. He took second at the KVL meet and his season-high jump of 6-1 ranks 16th in the state.
Boys 4x800 relay team (Tonganoxie)
Rachford and Briggs have teamed up with fellow senior Marcus Titterington and sophomore Evan Stilgenbauer to earn several medals in relay competition. The tandem's season-best time of 8:29.41 ranks ninth in the state and fourth among teams in the Baldwin regional.
Senior Marc Walbridge (McLouth)
Walbridge has enjoyed some success in the 1,600-meter run this season, particularly in recent weeks. He took second in the event at the Delaware Valley League meet with a season-best time of 4:45.99. That mark ranks 12th among Class 3A athletes and first among athletes in the Sabetha regional.
Junior Dakota Cop (McLouth)
Cop has established himself as one of the state's premier triple jumpers. He won the DVL title in the event with a distance of 41-8. His season-high is 43-3 and ranks 10th in the state.