Running group makes stop in Tonganoxie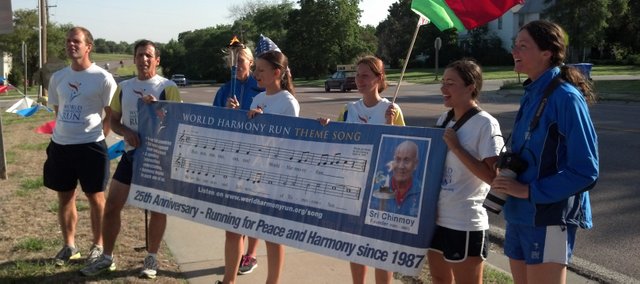 A running group promoting world peace made a stop Wednesday in Tonganoxie.
The 2012 World Harmony Run is a global relay founded by global peace leader Sri Chinmoy that seeks to promote international friendship and understanding. As a symbol of harmony, runners carry a flaming torch, passing it from hand to hand.
The Tonganoxie Chamber of Commerce welcomed the runners, who made stops at Reece and Nichols, 200 West St. along U.S. Highway 24-40 and downtown at City Hall, 321 Delaware, and Vintage Soap and Bath/The Coffee Depot, 626 E. Fourth St., in Tonganoxie. Local residents also offered water to the group.
The stop was part of a 10,000-mile route that encompasses all 50 states.