McLouth High bids farewell to class of 2012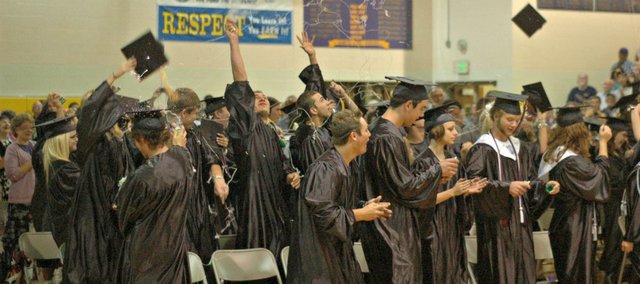 McLouth — As the old saying goes, "all good things must come to an end." But for the members of McLouth High School's class of 2012, that end is also a new beginning.
The Bulldog seniors said goodbye to classmates, teachers and coaches Saturday at a commencement ceremony in the high school gymnasium. Memories were shared, achievements were recognized and mortarboards flew, marking the end of a four-year journey for 51 students.
"As a class, we've made a million memories," senior class vice president Clarissa Courtney said. "Our time here has been filled with smiles and tears. Though we're not allowed to take much more than a diploma and a few things out of our lockers with us, the memories we've made at this place don't have to be left behind."
Class president Alex Courtney opened the ceremony with a brief reflection of his fellow seniors' accomplishments over the last four years. Alex Courtney was one of five co-valedictorians — all of whom finished their high school careers with 4.0 grade point averages. Others were class secretary Kelsey Campbell, Hunter Koch, Ally Bristol and Terri Stewart.
Following Alex Courtney's introduction and a poem reading by class treasurer Andrea Sullivan, Campbell and Clarissa Courtney relived some of their classmate's most memorable moments, prompting several laughs from those in attendance.
"Though these times are almost gone, they'll always be remembered," Campbell said.
Each co-valedictorian also gave a brief speech of their own, thanking school faculty for their support and challenging their classmates to achieve new levels of success beyond their years as high school students.
"I'm thankful for all the teachers who believed in me, who encouraged me and expected me to be a productive and successful member of society," Bristol said.
Academic success came often for the MHS class of 2012. As a group, the class recorded a composite ACT score of 22.4 — higher than the state and national averages — and combined to earn more than $300,000 in scholarships. More than 70 percent of the class will attend college next year and two graduates plan to enlist in the military. Steven Peters will join the U.S. Navy and Chris Royer will join the U.S. Air Force.
Rakel Jensen, an exchange student from Norway, was also individually recognized. Jensen will attend her final year at KKG Technical College and High School next year in Kristiansand, Norway.
In addition to all the academic accolades, this year's seniors also helped their alma mater achieve some success outside the classroom in 2011-12. The Bulldogs won Delaware Valley League titles in football and softball this season and earned second-place honors in speech. Five seniors will attend college next year on athletic scholarships.
The list of achievements is a long one, but according to Alex Courtney, the seniors' greatest accomplishment can't be recorded on paper.
"What we've achieved over our brief years at McLouth cannot be measured by grade point average," Courtney said. "In addition to our quality education int the classroom, we've received an education in life from each other."