Chieftain golf takes second at state
Yates wins individual title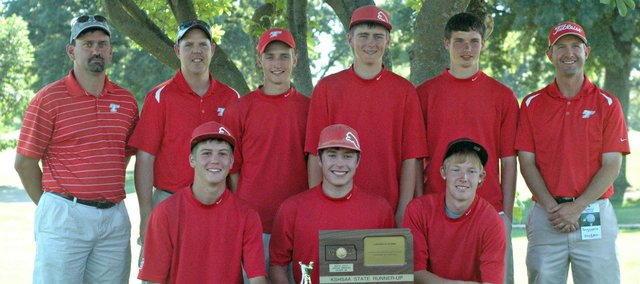 Photo Gallery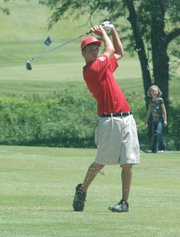 THS golf at state tournament
The Tonganoxie High golf team wrapped up its 2012 season with a second-place finish at the Class 4A state tournament at Dub's Dread Golf Club.
Kansas City, Kan. — Well before the state tournament began, Tonganoxie High golfers knew they'd have to battle to defeat Kaw Valley League opponent Piper. The Chieftain couldn't quite get over the hump, but they gave the Pirates all they could handle.
THS fell one stroke shy of a state title, recording a team score of 313 Monday at Dub's Dread Golf Club.
"I felt real good about our chances, and the way it turned out, we played really good," coach Jared Jackson said. "A 313 score is excellent on this golf course a the state tournament."
The tournament didn't take long to turn into a two-team race, as third-place finisher Holton came in 10 strokes behind THS.
As he's done so many times in his Chieftain career, senior Colby Yates clinched an individual title. He tied his career-low with a 69 to the defeat the second-best finisher by four strokes.
Yates birdied on the final three holes and received an ovation from the crowd as his ball fell into the cup on the 18th green.
"Jackson told me on the 18th tee that I needed to birdie to give the team a shot, Yates said. "I had that uphill putt and I was able to make it, but I was just thinking 'don't leave it short' because I had to give it a chance.
"If you would have told me I'd shoot a 69 (Monday) with all the pressure and stuff, I'd have told you you were crazy. This is the first time I've broken 70 all year and I couldn't have asked for a better time."
It was the 16th individual title in four years for Yates, who will golf collegiate for the University of Missouri-St. Louis.
Fellow seniors Kody Campbell and Tanner Hale joined Yates as state medalists in their final high school meets. Campbell finished with a 79 and took ninth after a playoff, and Hale tied for 16th with an 81.
"We were very, very happy," Jackson said. "Kody went out and played a great front nine. To break 80, that's an awesome way to cap it. Tanner went out and shot 43, then came back and fought for a 38 on the back. Our three seniors walked away with state medals, so that's great."
Junior Aaron Williams, sophomore Drew Sandburg and junior Tyler Hall rounded out the Chieftains' individual scoring with marks of 84, 86 and 92, respectively.
The second-place finish is the second in as many years for the Chieftains. With a trio of state participants returning next season, Jackson hopes the team will have plenty of motivation to return to the field in 2013.
"They've seen how fun it is to get recognized as Tonganoxie High School and to represent the Chieftains," Jackson said. "This year, we get to say we're the second-best team, and hopefully there's a hunger to continue that in the future."
Overall team results
Piper, 312; 2. Tonganoxie, 313; 3. Holton, 323; 4. Coffeyville, 332; 5. Wichita-Collegiate, 335; 6. Hesston, 342; 7. Iola, 345; 8. Maize South, 348; 9. Buhler, 349; 10. Paola, 358; 11. Ft. Scott, 364; 12. Abilene, 380.
THS individual results
Colby Yates, 69; 2. Kody Campbell, 79; 3. Tanner Hale, 81; 4. Aaron Williams, 84; 5. Drew Sandburg, 86; 6. Tyler Hall, 92.