Rural Leavenworth County animal-control force unlikely for near future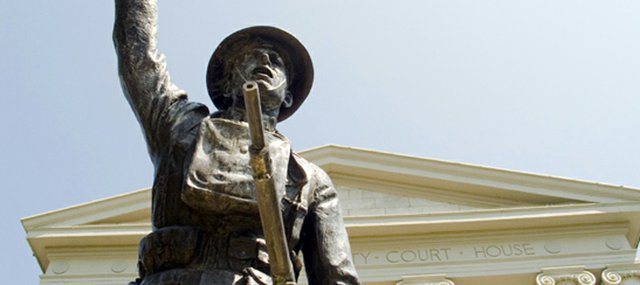 Different people have different views on whether Leavenworth County provides enough animal-control services for rural residents.
But for now, one thing's for sure: Nothing's likely to change in the near future.
That's what county commissioners indicated Thursday morning when they accepted a report from a committee charged with evaluating the need for animal control in unincorporated parts of the county.
As County Administrator Patrick Hurley suggested after the group's final meeting in early April, that report recommended that commissioners decline to supply the Leavenworth County Sheriff's Office with additional funding to create an animal-control force.
"It says we are not prepared to spend this kind of money at this point in time," Commissioner John Flower said, to sum up the findings.
Hurley, who led the animal-control committee, told commissioners Thursday that January and February numbers from the Sheriff's Office showed that most of the department's animal-related calls had to do with livestock or wild animals and not stray pets. When Sheriff Dave Zoellner asked commissioners last summer for about $70,000 in funding to hire two animal-control officers, the main problem he cited was strays.
"The vast majority, by far, relate to animals other than dogs," Hurley told the commissioners Thursday.
Of 59 animal-related complaints received by the Sheriff's Office in this year's first two months, according to the committee's report, only six were calls reporting stray dogs.
The evidence just doesn't support additional funding to provide animal control for the roughly 19,000 of the county's 76,000 residents who live outside of its cities, Flower said. Picking up and caring for strays can incur a great deal of cost, he said, that could be better spent helping residents in need of health care or mental-health services.
"It just becomes a stream of expense," Flower said. "I'm not denying the humanity of it."
Crystal Swann Blackdeer, president of the Leavenworth County Humane Society, reiterated in a letter to the commissioners Thursday that she disagreed with the animal-control committee's consensus, though she was a member. She was absent from Thursday's commission meeting because of an out-of-town conference.
The number of stray animals in the county isn't reflected in the data from the Sheriff's Office, Blackdeer wrote. One reason, she said, is that residents may not call the office when they find a stray, because the department announced several years ago that it would no longer pick up stray animals.
"How many stray pets of unknown health, vaccination status and temperament need to be roaming the county before action is taken to address this threat to public health and safety?" Blackdeer wrote.
Flower, though, said Thursday that the commission would not forget about the issue. The Sheriff's Office, prompted by the animal-control study, is now keeping more detailed records on the animal-related complaints it receives.
"We'll revisit this issue, I'm sure, again at some time with better data," Flower said.