Chieftain soccer falls to Hayden in state semis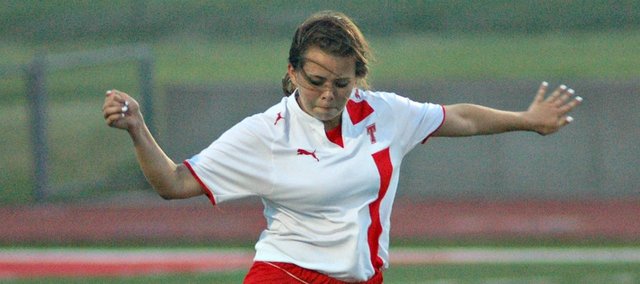 ROSE HILL — The Tonganoxie High girls soccer team saw its eight-game win streak come to an end Friday. Unfortunately, it happened on the season's biggest stage.
THS (10-9-1) struggled to find offense from the very beginning and dropped a 4-0 decision to Topeka-Hayden in Class 4-1A state semifinal action at the Rose Hill Athletic Complex.
The Chieftains opened the game with a strong wind at their backs, but couldn't capitalize on the advantage in the first half. They fell behind with 29:42 left until halftime when the Wildcats (13-7) scored their first goal of the game. Sophomore goalkeeper Emma Stilgenbauer dove to block a shot attempt, but the ball ricocheted to Hayden's Kylie Watson, who tapped the ball into the open net.
"I thought we were playing all right," coach Justin Seever said. "The keeper dove in on the ball and made a heck of a save, but nobody had her back to go try to win it and clear it out. It was just unlucky."
That's the only goal either team managed before the break.
Hayden took less than two minutes to strike in the second half, as Addison Barry found the net with 38:17 left on the clock. The Wildcats scored twice more in the next 10 minutes to put the game out of reach.
"That second goal really hurt us," Seever said. "It kind of deflated us."
THS, which only had one shot attempt in the game, failed to create scoring opportunities down the stretch, as Hayden kept the ball on the Chieftains' side of the field for the majority of the second half.
Despite allowing four goals, Stilgenbauer recorded nine saves in the contest. She and sophomore defender Aly Bartholomew also broke up several other Hayden scoring opportunities by disrupting numerous breakaways in front of the goal.
The opening-round loss doesn't mean the Chieftains can't go home with some hardware, as they'll face St. James Academy (7-12-1) in a consolation match at noon Saturday. St. James opened Friday's semifinals with a 4-3 loss to Wichita-Trinity Academy in a game that required 30 minutes of overtime and 16 penalty kicks.
"We came out here know we'd play two games," Seever said. "We don't want to come out of here empty handed."