THS

soccer falls to St. James in consolation match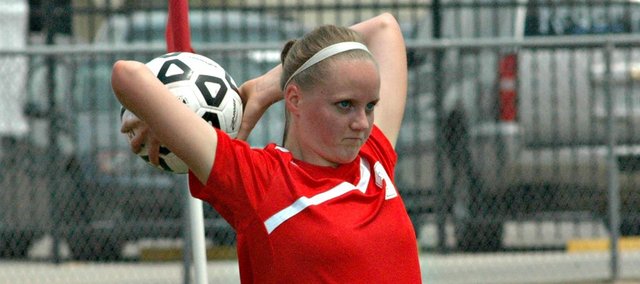 ROSE HILL — The 2012 soccer season came to an unfavorable end for Tonganoxie High Saturday, as the Chieftains dropped an 8-0 decision to St. James Academy in the Class 4-1A state consolation match at the Rose Hill Athletic Complex.
THS (10-10-1) allowed four goals each in the first and second half and managed just two shot attempts of their own in the contest.
It took St. James (8-12-1) less than two minutes to break through, as Margaret Brophy took advantage of an awkward bounce that left the net open with 38:37 left in the first half.
The Thunder, who played with a strong wind at their backs in the opening period, added three more goals before the break to take a 4-0 lead into intermission.
"They chose to win the first half, coach Justin Seever said. "They wanted to come at us and be aggressive. In that first half, we had to defend to keep them out of the net just based on that 30-plus mile-an-hour wind."
Things didn't get much better after halftime, as St. James opened second-half scoring with 32:11 remaining. Four Thunder players scored in the period for the final margin of victory.
The state tournament may not have gone how the Chieftains had hoped, but it capped off a record-breaking season. Among THS' accomplishments in 2012 were a school record 10 wins, the first regional title in school history and the first state appearance in school history.
"I feel like (this season) showed the girls what we're capable of," Seever said. "I honestly couldn't be any more proud of them. We wanted to come down here and get a state title, but just to get here and to be the only public school in the state left, I feel like we put our stamp on it."