Five questions: It's Relay time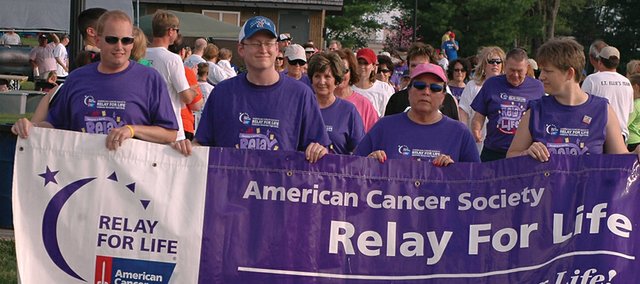 Area Relay for Life events kick off this week. We turn to americancancersociety.com for more information.
Q: When did the Relay start?
A: The American Cancer Society Relay For Life started in 1985 with Dr. Gordy Klatt, a Tacoma, Wash., surgeon. Klatt walked and ran around a Tacoma track for 24 hours, logging more than 83 miles. He raised $27,000 for the American Cancer Society. Teams took part in the first Relay For Life the next year.
Q: What happens at a Relay For Life event?
A: Relays include a Survivors Lap in which cancer survivors are invited to circle the track together. There's also a Luminaria Ceremony in which candles are lit inside bags filled with sand, each one bearing a name of a person touched by cancer. Relay teams walk throughout the night at the event.
Q: How do Relay For Life fundraisers assist cancer patients?
A: Donations go toward various areas of support for those with cancer, including research, college scholarships for cancer patients and survivors, and other support.
Q: How can I get involved?
A: Go to relayforlife.org/getinvolved/index for ways to become involved.
Q: Are there any Relay For Life events in the area?
A: The Relay For Life of Leavenworth County will be Friday at Warren Middle School in Leavenworth. The Relay For Life of Kaw Valley is June 8 at Bonner Springs High School. Relay For Life of Douglas County will be the same day at Free State High School in Lawrence. The Relay For Life of Shawnee will be June 15 at Swarner Park and another Relay will be Sept. 28 on the Shawnee Mission West high school track.