Linwood library leader retires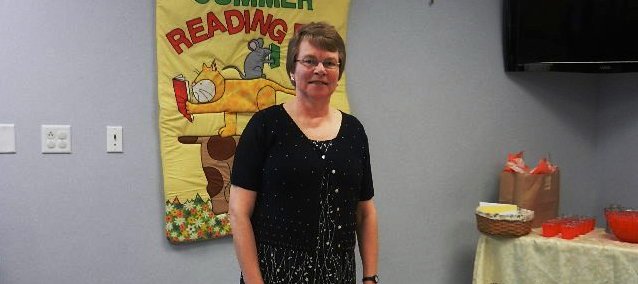 Sue Peavy will miss the morning coffee drinkers, the puzzle work and the book club ladies.
Peavy has been the library director at Linwood Community Library for five years and in that time has seen the library move from its longtime location in downtown Linwood to a considerably larger spot in the former New Linwood Café on Kansas Highway 32.
But now she is the former director, as Peavy's last day was May 19. An open house retirement party took place May 20 at the library, where she ended her library career. She started working in libraries in 1984.
"I don't have big plans," Peavy said. "I'm not going to Florida. And I'm not buying a motor home. I'm not doing anything.
"That's my big plan. I'm going to do nothing."
Peavy said she would miss the morning coffee drinkers who came to the library. They were known unofficially as the Old Codgers Club.
There also was the book club and collaborative puzzle building. The puzzle popularity started with a Kansas state map puzzle that library visitors put together as part of the sesquicentennial. People started bringing in their own puzzles after that and completed probably 20 puzzles in the process, Peavy said, two of which eventually became gifts for others in the community.
Peavy started as a page in 1984 and worked her way up in the Johnson County Library System. In 2004, she earned her master's degree in library science from the University of Missouri. Before coming to Linwood, she worked as director at the Winchester Library in a part-time position while also working for the Johnson County Library System.
Arlene Pritchard, who has volunteered for some 40 years at the library in its genealogy department, said Peavy would be missed.
"Sue and I have worked very well together," Pritchard said. "She has supplied me with all the necessary materials I use in my research for genealogy and the historical part of the library and I have really really appreciated working with her.
"I'm sure the new person will be just as good. I know Sue. She's not only the director; she's a dear friend."
Peavy spoke of the library moving from its longtime location in downtown Linwood to Kansas Highway 32 as a major part of her time spent as library director. The library had been on Main Street for 30 years before moving to the new venue in the fall of 2010. The previous library home had 1,880 total square feet; the current library nearly doubled the size with about 3,500 square feet.
"I've been here for five years and it has been some of the most rewarding time of my life," Peavy said. "I've been getting to know the people of our library district. It's been a very pleasant five years. But you know when it's time to step down and let someone else take over."
Dave Hanson, of Shawnee, is the new library director. He comes to Linwood from the Johnson County Library System. He is a published book and theater author. Hanson has a bachelor's degree in English and a master's degree in professional writing.