Game notes: Tonganoxie football at Eudora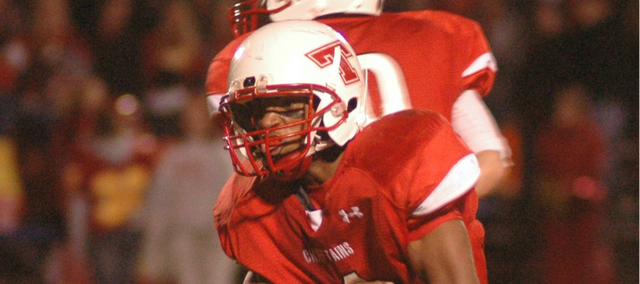 Two days from now, Tonganoxie High will continue its trek into unfamiliar territory when it plays its first November football game in seven years. The Chieftains (5-5) will travel to Eudora (9-1) for a Class 4A regional playoff game against arguably the toughest team they've faced this season.
The game will be the first regional appearance for THS since 2005. Meanwhile, EHS is back in the postseason after falling to Rose Hill in last year's state championship game. Here are some facts and numbers to keep in mind when THS squares off against the Cardinals at 7 p.m. Saturday at Eudora District Stadium:
Reaching regionals
Tonganoxie and Eudora both needed all four quarters to get out of the bi-district round. THS allowed Atchison to get within seven points with 3:29 left in the game, but the defense forced a three-and-out on Atchison's final possession. EHS didn't lead by two scores against De Soto until a touchdown run by junior quarterback Andrew Ballock with just two minutes left.
Close calls
The Chieftains have shown a knack for winning close games in coach Al Troyer's first season. They are 4-0 in games decided by single digits, including their last three contests. The Cardinals, on the other hand, have split a pair of single-digit games this season. They held on for a 21-20 win against Louisburg on Sept. 7, then dropped a 17-14 decision to St. James Academy on Oct. 5.
Familiar face
When THS players hit the field against Eudora, they'll do so with a former teammate on the other sideline. Cardinal senior Garret Elston was the Chieftains' starting quarterback last season, but has put up solid numbers at running back in 2012. He's rushed for 754 yards, including three 100-yard games, and three touchdowns.
Ground and pound
Both offenses have made a living on the run game this season, particularly in recent weeks. Tonganoxie juniors Cole Holloway and Shane Levy have put up huge numbers in each of the last two games, combining for 637 yards and six touchdowns. Holloway has 1,255 yards on the season and has gone over 200 yards twice. Levy, also the team's leading receiver with 530 yards, ran for three scores on Tuesday against Atchison.
In addition to Elston, Eudora has several players capable of hurting the Chieftains with their legs. Ballock has led the charge with 840 yards and 13 touchdowns. Fellow seniors Gave Cleveland and Markis Hill have combined for 1,032 yards and 13 more scores.
Effective air assault
Neither team has favored the passing game late in the season, but both have still done some damage through the air. THS junior Tyler Ford completed just five passes in the last two games (11 attempts), but three went for more than 20 yards and another went for a touchdown. Ballock has averaged just 7.3 pass attempts per game in 2012, but has thrown for seven scores — five to senior tight end Nick Becker.
Tenacious "D"
Opposing offenses have struggled to find the end zone against the Chieftains and Cardinals down the stretch. THS has allowed just 13 points per game in its last three outings. During that stretch, the defense has recorded 11 sacks. Junior James Grizzle had three against Jeff West on Oct. 19, Levy had three on Oct. 25 at Basehor-Linwood and senior Gus Dent had two on Tuesday against Atchison. Sophomore Jared Sommers leads the team with 59 total tackles.
It's been nearly impossible to score on the Eudora defense, which has allowed just eight points per game this season. The Cardinals have recorded three shutouts, including their last two games. They haven't surrendered more than six points in a game since their loss to St. James on Oct. 5. Becker leads the team with five sacks, while Ballock has seven interceptions.
What's next?
The winner of Saturday's game will advance to the section round, where it will face the winner of Coffeyville-Field Kinley (8-2) and Louisburg (6-4) on Nov. 9.