Tonganoxie High grad living in New York City weighs in on Superstorm Sandy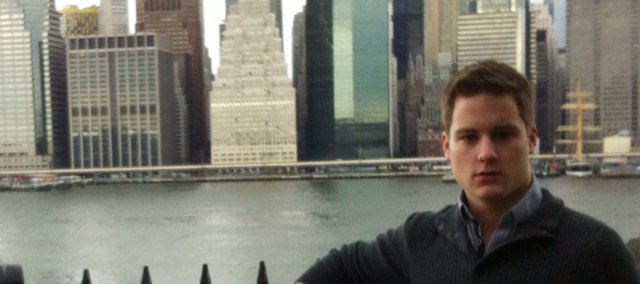 Michael Christensen joins classmates who have a better view of the city from their room at Christensen's Brooklyn Heights dormitory.
It's at night and the New York City skyline has taken on a different appearance — a stark contrast between the illuminated area that has electricity and the portion pitch black because it's still without power following Superstorm Sandy.
"The night of the storm, we were watching the city systematically shut down," Christensen said about Monday. "Power goes out in one part and power goes out in another.
"Brooklyn Bridge lights went down and then Manhattan Bridge lights went out."
Christensen, a 2012 Tonganoxie High School graduate, is studying at the New York Conservatory for Dramatic Arts, which is in lower Manhattan, one of the areas hardest hit by the storm.
Classes were canceled for the week, and students in the dorm were advised not to leave the building, Christensen said.
On Halloween, Christensen and friends ventured out for a trip to Chipotle in costume because of a $2 burrito promotion for anyone wearing a costume into the restaurant. When Christensen and his friends arrived, though, the restaurant was closed because of the storm.
"We walked around in our costumes and looked like idiots, but we still wanted to see the damage," Christensen said.
Some classmates live in New Jersey and Manhattan, but everyone is safe and accounted for, he said.
Christensen never was without power, so he and classmates have been able to keep themselves occupied with television, video games and movies.
"It makes the cabin fever much more manageable," Christensen said.
Classmates who live near Harlem came to Christensen's dorm to celebrate another classmate's birthday this week. With transportation services down, they opted to walk, which took 2 hours and 45 minutes, Christensen said. The friends described the jaunt as being "like an episode of the 'Walking Dead' in some areas," Christensen said.
The THS graduate has been keeping tabs on the city's extensive damage on television.
"For lack of a better word, it's insane," he said.
Uncertain when classes will resume and how long it will take for New York City to recover, Christensen also has concerns about how the damage will affect voters getting to the polls on Election Day on Tuesday.
He said he voted absentee, but wonders how voting will be handled in New York City and other areas ravaged by the storm.
"I'm sure they're going to have to find some way to work around this tragedy," Christensen said. "In the aftermath of this storm, they're going to have to find ways to allow them to vote."
Superstorm Sandy has been blamed for at least 75 deaths in the Northeast, according to the Associated Press, and massive power outages, including 2.7 million in New Jersey and 2.2 million in New York initially. As of Thursday, outages are at 1.76 million in New Jersey and 1.5 million in New York, the AP reports.