Strong first half not enough as
THS

falls at Eudora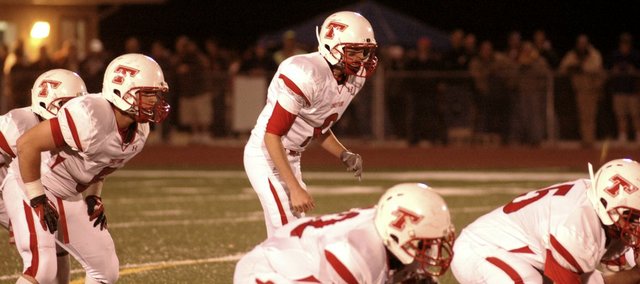 Eudora — In a game that featured two run-first teams with strong defensive fronts, Tonganoxie High coach Al Troyer tried to catch Eudora sleeping with a steady diet of quick passes. Troyer's plan worked to perfection for two quarters, but the Cardinals' ground-and-pound offense was too much to handle down the stretch.
Troyer's squad led by a touchdown at the break, but gave up 28 unanswered points in the second half of a 31-10 regional playoff loss Saturday at Eudora District Stadium.
After a scoreless first quarter, the Cardinals (10-1) went in front on a 26-yard field goal by freshman kicker Grant Elston in the opening minute of the second. The EHS defense helped the Chieftains (5-6) on the ensuing drive when a defender jumped offsides on fourth and 1 near midfield. On the very next play, junior quarterback Tyler Ford hooked up with fellow junior Shane Levy for a 46-yard touchdown pass. Junior Eric Tate added the extra point to give THS a 7-3 lead with 9:02 left until halftime.
The scoring strike was the beginning of a big day for Ford, who was 19-of-24 passing for 175 yards after throwing just 11 passes in his last two games. Ford's performance against the Cardinals put him over 1,000 yards for the season (1,071).
"We knew (Eudora's) strength was in stopping the run, so we wanted to exploit their secondary a little bit," Troyer said. "For the most part, Tyler did a great job. We tried to roll him out of the pocket some and get some of those short passes."
The Tonganoxie defense forced a fumble and a three-and-out on Eudora's next two drives, and the offense took over at its own 37 with 2:24 left. It looked as though the Chieftains would go into the locker room up by four until Ford went deep to sophomore Ben Clark with time running out. Clark made a juggling catch and fumbled out of bounds inside the Cardinal 10 with just five seconds left, and Tate drilled a 23-yard field goal on the next play.
Eudora, which didn't run another play before halftime, managed just 82 yards in the first two quarters. THS, on the other hand, racked up 144 yards in the half, including 125 through the air.
"The kids did a great job of moving the football, then the defense got stops," Troyer said. "We had to spend a lot of time just talking to our (defense) about responsibility."
Any momentum the Chieftains took into the locker room seemed to stay there, as Eudora opened the second half on a 42-yard scoring drive, capped off by a 13-yard touchdown run by quarterback Andrew Ballock. THS, which had just three offensive drives after the break, went three-and-out and punted the ball away midway through the third quarter. The Cardinals regained the lead late in the period when Ballock found Markis Hill from 23 yards out.
THS turned the ball over on downs in Eudora territory on its next drive, and the Cardinal offense began to kill the clock with a long string of running plays by Ballock, Gabe Cleveland and former Chieftain Garret Elston. Cleveland made it a two-score game with a two-yard touchdown run early in the fourth quarter.
Cleveland led the Eudora offense with 85 yards, while Garret Elston and Ballock added 79 and 52 yards, respectively.
"In the second half, they kind of caught us in the middle and started having some success," Troyer said of Eudora's rushing attack. "They just really pounded it in the second half, but they were getting for our five instead of getting a big play. I was proud of our kids for not giving up the big play."
Garret and Grant Elston are the sons of former THS coach Mark Elston, who resigned following an incident with a player just days before the start of the 2011 season.
The Cardinals put the game on ice when junior Maleak Gibson fumbled the ensuing kickoff and Mason Tomlinson took it 18 yards for a score.
The loss marks the end of a season in which THS more than doubled its win total from the last two years combined. In addition, the Chieftains made the playoffs for the first time since 2006 and won a district title for the first time since 2005. With several key players returning next season, Troyer already sees plenty of reason for optimism in 2013.
"What a great way to end this season and get ready for the future," he said. "We'd have liked to win on Saturday, but our kids are positive and upbeat to get started on another campaign."
Score by quarters
Tonganoxie 0 10 0 0 — 10
Eudora 0 3 14 14 — 31
Second quarter
EHS — Grant Elston 26 field goal, 11:10
THS — Shane Levy 46 pass from Tyler Ford (Eric Tate kick), 9:02
THS — Tate 23 field goal, :02
Third quarter
EHS — Andrew Ballock 13 run (kick failed), 7:25
EHS — Markis Hill 23 pass from Ballock (Ballock run), 1:47
Fourth quarter
EHS — Gabe Cleveland 2 run (Elston kick), 4:43
EHS — Mason Tomlinson 18 fumble return (Elston kick), 4:35
Rushing
THS: Cole Holloway 9-16, Levy 2-0, Ford 4-(-1); EHS: Cleveland 17-85, Ballock 14-79, Garret Elston 16-52, Hill 3-7.
Passing
THS: Ford 19-24-0 175; EHS: Ballock 3-5-0 46.
Receiving
THS: Levy 5-76, Ben Clark 5-56, Brett Shelton 4-15, Jared Sommers 3-14, Wyatt Weeks 1-10, Holloway 1-4; EHS: Hill 1-23, Cleveland 1-17, Tomlinson 1-6.