Chieftain soccer wraps up historic season as state runner-up
Photo Gallery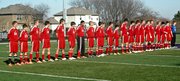 THS soccer at state
The Tonganoxie High soccer team reached the state championship match for the first time ever on Saturday at Piper High School.
Kansas City, Kan. — When the final horn sounded at the Class 4-1A state soccer championship match, Tonganoxie High was on the wrong side of a 5-1 decision against Topeka Hayden. Some players briefly hung their heads, but when coach Brian Kroll reminded them of their seemingly endless accomplishments in 2012, there was little room for tears.
The Chieftains (16-4-1) wrapped up their season on Saturday with a second-place finish at Piper High School. When the team was presented with its runner-up trophy, it capped off the best season in program history — a season that included a school-record 16 wins, a second-straight regional title and the Chieftains' first-ever state championship appearance in any team sport.
"Nobody expected Tonganoxie to be here," Kroll said. "Nobody gave them a shot. It's funny because we just finished our season with 21 games. That's the most anyone can play in a season, and we just did that. We're here, we're going to be around and we'll shoot to do this as often as possible. That's really all I can say."
A day removed from its 3-1 semifinal win against McPherson, THS struggled to create shot opportunities and couldn't match Hayden's offensive firepower in the finals.
Conner Beck, who led the Wildcats (20-1) with four goals, put his team on the scoreboard less than 10 minutes in when he headed a pass from Pedro Ortega past Chieftain goalkeeper Keaton Truesdell. Beck scored again with 7:16 left in the first half, and Hayden took a 2-0 advantage into the break.
"We didn't come out as hot as we should have," senior co-captain Zack Tallent said. "Our passes were pretty good, but (Hayden) just finished when they needed to. Congrats to them."
THS hung tough early in the second half, but the Wildcats eventually doubled their lead with goals by Beck and Brogan Heinen.
Kroll's squad got its only score of the day midway through the period on a penalty kick by senior Matt Saathoff, but Beck answered Saathoff's score with penalty kick of his own with 17:50 left. The Hayden defense kept the Chieftains in check for the remainder of the game.
"If you go back and look at our season, in back-to-back days, we never did well on the second day," Kroll said. "I've got 11 guys that I can pretty much count on true and true, but depth is a bit of an issue. Next year, depth may not be as much of an issue."
Saathoff, who scored all three of the Chieftains' goals against McPherson, finished the season with a team-high 31 goals.
Following the postgame trophy presentation, THS fans joined the team on the field to celebrate the end of a season that, according to Tallent, nobody will soon forget.
"It's really cool setting the bar for everybody else coming up," Tallent said. "I hope we left our imprint on the program. It's kind of cool thinking about all the next teams wanting to be like the 2012 team. I just think we should keep our heads held high. It feels good that I could finish out my season in every possible way. In the past, we've never made it this far, so it's good."
Prior to the title match, Kansas City Christian defeated McPherson in a consolation match that included four overtime periods and 14 penalty kicks.