Veteran's service spanned globe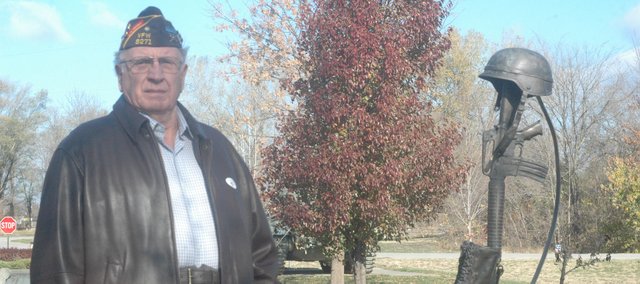 In 20 years, Harlan Elliott's family moved 22 times.
The Tonganoxie VFW member said it was part of his military life and that when he came home with a brown envelope, which signified his next assignment, his two daughters "grabbed their suitcases and wondered where we were going now."
"My wife prepared them for that life," Elliott said of his first wife, Theresa, who died of cancer.
The 79-year-old Elliott, a Tonganoxie resident, graduated from Mississippi State University in 1955 with a bachelor's degree in engineering. He also was a member of ROTC and, following college, served stints in England, Germany, Korea and Vietnam through the years, as well as stateside in such states as Oklahoma, California and Texas before attending the Command and General Staff College at Fort Leavenworth.
In Vietnam, Elliott served as a district senior adviser to the Vietnamese.
"We had some civilians working for us in the development of schools and agricultural programs," Elliott said. "We advised them on getting their country back together, you might say."
In Elliott's years of service, he also taught, including at the Command and General Staff College.
Fort Leavenworth wasn't Elliott's first teaching stint. He served as an assistant professor of military science at Furman University in South Carolina. He also taught a junior ROTC class and was an adviser for the Persian Rifle drill team, which was chosen to march in President Johnson's inaugural parade in 1965.
Elliott said his best experience was serving as an ROTC instructor in college. He noted that not all students went into the military, but continued on in leadership roles.
"ROTC has a very strong influence on college students," Elliott said.
While in the military, Elliott earned various medals, including a National Defense Service Medal, Vietnam service, counter offensive and armed forces medals, Bronze Star Medal and TET 69 Counter Offensive Medal.
Elliott retired in 1975 from the Command and General Staff College and owned several retail businesses in Leavenworth until 2000.
"And then I retired, because I was tired," Elliott said with a laugh.
These days, Elliott is back to reviewing students' work. He helps judge Patriot's Pen and Voice of Democracy essays, national contests the VFW sponsors that offer middle and high school students the chance to write about patriotism.
"It's our way of trying to energize the high school students," Elliott said. "They write some very good papers."
Residents of all ages will head Monday to downtown Leavenworth as veterans such as Elliott will take center stage for the annual Leavenworth County Veterans Day Parade.
"I feel like as a veteran we're very honored people take time out of their busy schedules to honor the veterans," Elliott said.