Jenkins defeats Sclhingensiepen in
U.S.

House race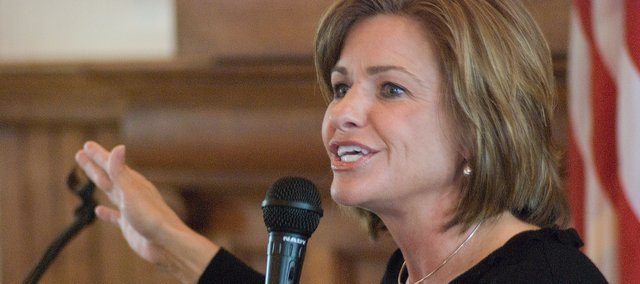 Enjoying large advantages in money and voter registration, U.S. Rep. Lynn Jenkins, R-Topeka, on Tuesday was winning a third term in Congress over political newcomer Tobias Schlingensiepen.
Jenkins held a 55 percent to 39 percent lead over Schlingensiepen, a Topeka minister, with almost all precincts counted. Libertarian Dennis Hawver, an attorney from Ozawkie, had 6 percent.
The new wrinkle thrown into the race was the order by three federal judges in June that placed all of Lawrence and Douglas County into the 2nd District. For the previous 10 years, Lawrence had been divided between the 2nd and Johnson County-based 3rd districts.
But even with Democratic-leaning Douglas County wholly in the 2nd, Jenkins enjoyed a nearly 10 percentage-point advantage in Republican registered voters in the district that includes most of eastern Kansas, stretching from the state's borders with Nebraska to Oklahoma.
In campaign finance, Jenkins reported having $1.4 million in cash on hand in the final month of the campaign, while Schlingensiepen's warchest was at $50,420.
During the race, Schlingensiepen said lobbyist wining and dining and special interest campaign contributions were corrupting Congress, and he said Jenkins was part of that problem.
He noted that she took hundreds of thousands of dollars in campaign contributions from banks, insurance and financial companies while voting against regulations of those interests that he said were aimed at safeguarding consumers.
But Jenkins, a former state legislator and state treasurer, said she voted against regulations that hurt small banks in the district.
She touted her record of voting against President Barack Obama's proposals, including a vote to repeal Obamacare.
"They believe government can solve our problems, while I believe that in many cases, government is the problem," she said of Democrats.
On the issue of Medicare, Schlingensiepen said the proposed overhaul that Jenkins voted for would have increased the cost of health care by more than $6,000 per senior citizen, but Jenkins said the plan was necessary to keep Medicare from going bankrupt.
The two also disagreed on funding to Public Broadcasting. Schlingensiepen defended the relatively small amount of government dollars, while Jenkins said she would pull the plug.
Jenkins said after the election she believed Congress would work on an overhaul of the tax system in a way to lower rates and eliminate loopholes.
Schlingensiepen had survived a three-candidate primary, defeating runner-up Bob Eye, an attorney from Lawrence.
Last year, Schlingensiepen, a minister at First Congregational Church, helped form a coalition to fight Brownback when the Republican governor proposed shutting down the Kansas Neurological Institute, which is a state hospital that serves those with profound disabilities. KNI remains open.
Jenkins, a certified public accountant, defeated former GOP Rep. Jim Ryun in the 2008 primary and then Democratic incumbent Nancy Boyda, who had unseated Ryun two years earlier.