Voters approve new elementary school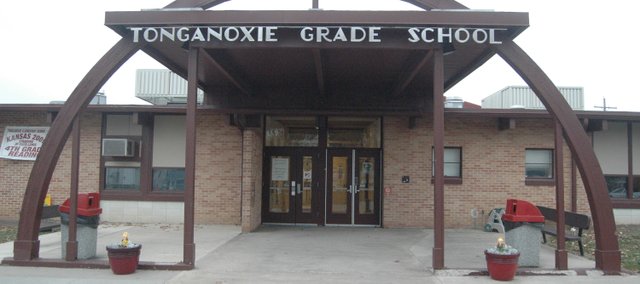 Editor's note: An earlier version of this story stated the new elementary school would be home to grades K-6 and the middle school would go from 5-8 to 7-8. The new elementary school will be K-5 and middle school 6-8.
Tonganoxie will have a new elementary school.
Voters were asked whether to approve a $27.2 million bond issue that would fund a new elementary school near Tonganoxie Middle School. The question passed with nearly 60 percent of the vote, 2,661-1,802.
The outcome was an about-face from an April 2011 bond question in which voters said no to a $26.9 million bond issue that would have funded additions to the elementary and high schools and construction of an intermediate school. Voters said no to that question with 62 percent of the vote (1,111-629).
Tonganoxie USD 464 Superintendent Randy Weseman said he thought the bond was successful because the school board moved forward with a "pragmatic, common sense plan" for the new elementary school, which is expected to be about 30,000 square feet. It will be home to grades kindergarten through fifth grade. The current 5-8 middle school will be home to grades 6-8 after the new elementary school is constructed. The current elementary school is home to grades K-4 and would become a mixed-use building.
"My belief is Tonganoxie supports its kids and public education," Weseman said. "It will be a solid, practical elementary school. It will serve our kids a lot of years."
Weseman now will move forward in helping the school board decide where the new school will be constructed on the district's 80 acres along Washington Street. There are three options the board is evaluating.
"We're gathering more information and making the best decision where to place that school for pedestrian flow, traffic flow, those kinds of things," Weseman said.
The school board next will meet at 6 p.m. Monday for its regular monthly meeting at the THS library on the school's west campus.
Some potential uses to be explored for the current elementary school if a new school were built: overflow classrooms for future growth needs in the district, shared space with Tongnaoxie City Hall, possible library needs, a community center, board of education needs, district special needs cooperative, parks and recreation, possible community college classrooms and virtual school.
Though the bond issue is for $27.2 million, state aid will contribute about $9.3 million.
The previous successful bond issue, which funded a new middle school and upgrades to the high school and elementary school, passed in 2004. The last bond issue before 2004 was in the late 1980s when a new junior high — now part of the high school campus — was built.