Game notes: McLouth vs. Lyndon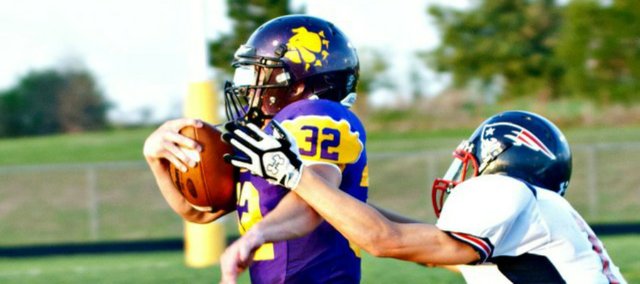 McLouth High has put together some impressive wins in 2012, but will likely face its toughest test of the season against an undefeated Lyndon squad on Friday at Stan Braksick Sports Complex. The Bulldogs (9-1) will play the Tigers (10-0) at 7 p.m. for a spot in the Class 2-1A state semifinals.
Friday's game will mark the first regional playoff game for MHS since 2005 — the last season the Bulldogs made a postseason appearance of any kind. Lyndon, on the other hand, is in the second round for the first time since 2007. The Tigers made the playoffs last year, but were eliminated by Wathena-Riverside in the first round.
Here are some facts and numbers to keep in mind when action begins on Friday:
How they got here
Both teams posted lopsided victories in their postseason openers. Lyndon blanked Wabaunsee at home, 44-0, while McLouth cruised to a 42-8 victory against Delaware Valley League foe Jackson Heights.
Best of the best
The combined 19-1 record between McLouth and Lyndon is the best of any 2-1A matchup in the state. Centralia and Olpe have the next best combined mark (18-2). Oddly enough, the winners of each game will meet in the sub-state round on Nov. 16.
Homecoming
When the Bulldogs welcome the Tigers to town, they'll do so with a former coach and player on the sideline. LHS wide receivers/defensive backs coach Kevin Stewart was a running back and defensive back at McLouth from 2002 to 2005, then coached those same positions at at MHS from 2008 to 2011. Stewart is the son of current Bulldog coach Chris Stewart. More on Kevin's return to his alma mater is available here.
Total package
Lyndon and McLouth have both featured balanced offensive attacks in 2012. Tiger quarterback Joe Walsh has thrown for 1,270 yards and 11 touchdowns while running for 268 yards and 11 more scores. Cameron Woodruff has been Walsh's favorite target, hauling in 38 catches for 640 yards and seven touchdowns.
Skylar Farwell is LHS' leading rusher with 1,045 yards and 23 touchdowns, but coach Rod Stallbaumer has several other scoring options in the ground game. Woodruff and Josh Owens have each run for seven touchdowns and Alex Taussig has added five.
Bulldog quarterback Marc Walbridge has also put up big numbers through the air, throwing for 1,518 yards and 20 touchdowns. He's been at his best in recent weeks, as he's gone 25-of-32 (78.1 percent) with 10 scores and no interceptions in the last four games. Nick McAferty leads the receiving corps with nine touchdowns, while Dakota Cop and Drew Cerny have each hauled in five.
McLouth has gotten big rushing performances from numerous players in 2012. T.J. Crowell has led the charge with 15 touchdowns, followed by Cop and Cerny, who have run for 12 and 6 scores, respectively.
Immovable objects
Both team's defensive units have enjoyed plenty of success this season, and it's shown on the scoreboard. Lyndon has allowed just 3.2 points per game while recording six shutouts.
The Bulldogs have pitched just one shutout this year — a 40-0 victory against Jefferson County North on Oct. 5 — but they've held five teams scoreless in the first half and allowed just 8.6 points per game.
Common ground
Olpe is the only team that the McLouth and Lyndon both played during the regular season. The Eagles handed the Bulldogs their only loss in a 13-12 decision on Sept. 21 at OHS. One week later, Lyndon traveled to Olpe and rolled to a 40-6 victory.
Friendly confines
Since the beginning of last season, McLouth is 10-1 on its home field. During that stretch, the Bulldogs have defeated opponents by an average of 39.7 points. Their one loss came against perennial 3A powerhouse Rossville on Oct. 21, 2011.