McLouth stifled by Lyndon in sectional playoff bout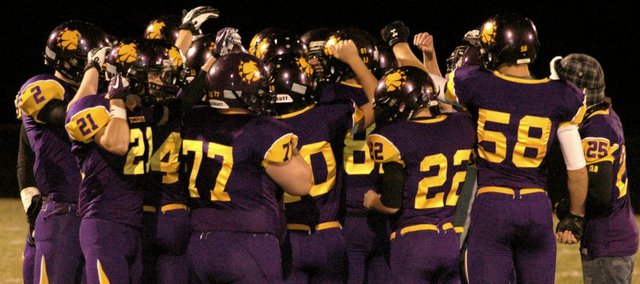 McLouth — As the old saying goes, "all good things must come to an end."
McLouth's High's best football season in seven years came to a screeching halt on Friday with a 39-6, Class 2-1A sectional playoff loss to Lyndon at Stan Braksick Sports Complex.
After a scoreless first quarter, the Tigers (11-0) went in front on a three-yard plunge by Josh Owens on the first play of the second quarter. Meanwhile, the Bulldogs (9-2) struggled to move the ball on offense in the first half, as they managed just 49 total yards before the break.
"They've just got size and they've got speed," coach Chris Stewart said. "Any time you've got size and speed, it's pretty hard to go against that. When we tried to pass, they blitzed and they just have bigger kids. That's all there is to it."
It looked as though Lyndon would take a 7-0 lead into intermission, but a broken play allowed the Tigers to extend their advantage to two scores in the second quarter. McLouth's Marc Walbridge seemingly broke up a fourth-down pass attempt by quarterback Joe Walsh deep in MHS territory, but Tiger receiver Gaige Brecheisen grabbed the deflected ball and kept his foot inbounds to extend the drive. Walsh then scored on a sneak to make it 13-0 Lyndon.
The Tigers put the game out of reach with 20 straight points in the third quarter. Walsh scored on a one-yard run, Owens broke free from 27 yards out and the duo hooked up for a 34-yard scoring strike to make it 33-0 late in the period.
"I'm just really impressed with their entire team — their quarterback, their running backs, their line and everything," Stewart said of Lyndon. "They've got a good football team."
The Bulldogs got on the scoreboard when Walbridge hit Nick McAferty for a 59-yard touchdown pass with four seconds left in the third. It was the 10th time the duo hooked up for a score this season.
Lyndon's Skylar Farwell, who ran for a game-high 105 yards, capped off scoring with a 46-yard touchdown run late in the final period.
Owens and Walsh added 85 and 43 rushing yards, respectively, and Walsh threw for 46 more. Walbridge threw for 144 yards to lead McLouth, while T.J. Crowell led the ground attack with 36 yards.
With time running out in the fourth quarter, Stewart stopped the clock to give fans a chance to recognize the Bulldog seniors, including Walbridge, Crowell, Charles Courtney, Wyatt Farris, Dakota Cop and Matt Horton. That group helped lead MHS to a combined 16-4 record in the last two seasons.
"It all started with the seniors from last year, then these guys followed them up," Stewart said. "This year's seniors, they've worked harder than anyone to get where they're at today. That's a real credit to them to get to the point where they're at today."
Score by quarters
Lyndon 0 13 20 6 — 39
McLouth 0 0 6 0 — 6
Second quarter
LHS — Josh Owens 3 run (Joe Walsh kick), 11:53
LHS — Walsh 2 run (kick failed), 6:20
Third quarter
LHS — Walsh 1 run (Walsh kick), 9:50
LHS — Owens 27 run (kick failed), 3:59
LHS — Owens 34 pass from Walsh (Walsh kick), 1:17
MHS — Nick McAferty 59 pass from Marc Walbridge (run failed), :04
Fourth quarter
LHS — Skylar Farwell 46 run (kick failed), 3:23
Rushing
LHS: Farwell 11-105, Owens 9-85, Alex Taussig 7-50, Walsh 15-43, Dawson Swinehart 3-36, Gaige Brecheisen 6-22; MHS: T.J. Crowell 9-36, Walbridge 15-25, Dakota Cop 8-8, Jace Carlton 1-4, Kevin Gann 1-3, Drew Cerny 1-1.
Passing
LHS: Walsh 4-7-0 46; MHS: Walbridge 11-23-1 144.
Receiving
LHS: Owens 1-34, Brecheisen 1-10, Farwell 1-3, Swinehart 1-(-1); MHS: McAferty 7-125, Cop 3-16, Crowell 1-3.