Former Chieftain excels as competitive lifter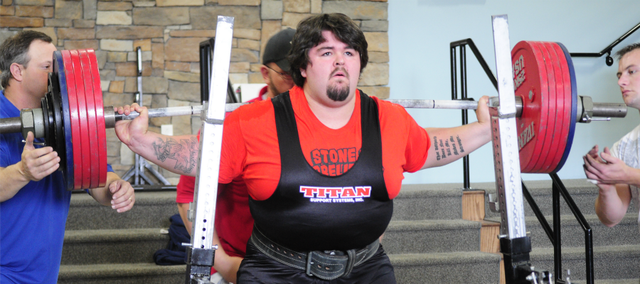 Jeff Frank II hung up his football pads a few years ago, but he knew he wasn't ready to get away from the thrill of competition. As it turns out, the former Chieftain lineman's desire to return to the heat of battle led him away from the gridiron and into the weight room.
Frank, who signed to play football at Garden City Community College after graduating from Tonganoxie High in 2006, has now turned his focus to competitive powerlifting. Upon returning to northeast Kansas, he caught the attention of veteran lifters, and the rest is history.
"I had gotten competitive from football, just lifting there, then I found out my football career was done, but I wanted to get back into competitive lifting," Frank said. "Whenever I moved up to Shawnee, I started lifting at Gold's Gym. There were a couple powerlifters there, and they said I had a bunch of raw talent for the sport. They talked me into doing it, so I moved over to their gym at Stone and Barbell."
Now a membership coordinator at Sams Club in Lenexa, Frank recently competed in the United States Powerlifting Association Fall Classic in Blue Springs, Mo. He participated in the dead lift, the bench press and the squat. Each lifter had three chances in each event.
Frank made the most of his opportunities at the meet and set a personal record along the way. He squatted a personal-best 700 pounds on his second attempt to go along with 628 pounds in the dead lift and 468 in the bench press.
"I had a lot more in me that I didn't know I had in me," Frank said. "I had never touched 700 before, but it shot up easier than the first attempt did. It was a nice, small meet. Just something to get my feet wet. There were a couple pro lifters there, but a bunch of raw talent from everybody."
As a high school senior, Frank played on the last THS football team to win a district title — until this season. He earned an All-Kaw Valley League honorable mention following his senior campaign. He was also active on the Chieftain wrestling team. Nowadays, when he's not lifting or working, Frank said he's often at the gym for recovery or rehab work.