THS

fall athletes rack up postseason awards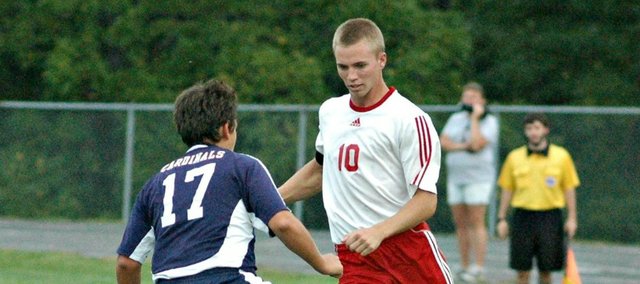 Tonganoxie High is still reaping the benefits of a successful fall athletic season, as individual honors have started to roll in for several Chieftains. Sixteen athletes from three different sports have received recognition from coaches across the Kaw Valley League, and five have been recognized as some of the top competitors in the state.
The Chieftain soccer team's record-breaking season translated into unprecedented success in the individual ranks, as four players earned Class 4-1A All-State selections by the Kansas Soccer Coaches Association. Senior co-captains Matt Saathoff and Keaton Truesdell were each named to the first team, while junior Evan Stilgenbauer and sophomore Asher Huseman received honorable mentions.
Saathoff, a forward, led the Chieftains with 31 goals in 2012, including three in a 3-1 win against McPherson that propelled THS into its first-ever state title match. Nonetheless, he was still caught off guard by his first All-State selection.
"I was actually on a college visit when Coach (Brian Kroll) texted me," Saathoff said. "It was kind of out of the blue and really surprised me. It was a fun year. As a team working together, we were able to work the ball up, which gave us an opportunity to finish with me and Asher at forward."
Truesdell, a fourth-year starter at goalkeeper, recorded five shutouts this season. He blocked 29 shots in the Chieftains' state semifinal match, in which McPherson took 42 shots.
"I was just really happy. It was an honor," Truesdell said. "I just felt I had to make plays whenever they came my way. That was my goal, so that's what I tried to do all season."
Huseman complemented Saathoff's numbers with 19 goals of his own. Stilgenbauer, a defender and co-captain, averaged more than seven steals per game and played a pivotal role on a THS defense that allowed just more than a goal per game in 2012.
All four of the Chieftains' All-State selections were also named to the All-Region first team. They were joined by senior Zack Tallent, senior John Lean and freshman Tyler Novotney as All-KVL honorees. Senior Jeremy Fox rounded out the soccer team's accolades with an All-Region honorable mention.
The All-State recognitions didn't stop on the soccer field, as senior Jenny Whitledge earned 4A second-team honors from the Kansas Volleyball Association. It was the second straight selection for Whitledge, who earned an honorable mention as a junior.
"I actually found out from my stepdad, then (coach Tiffany Parker) called me," Whitledge said of her selection. "I honestly was ecstatic because we didn't go to state, so I didn't have high hopes for making a higher team. I couldn't believe it."
Whitledge, an outside hitter, led the Chieftains with 407 kills. She ranked second on the team in digs (224), service aces (37) and blocks (31.5).
THS upset two higher-seeded teams at sub-state to get within arm's length of a state appearance, thanks in large part to Whitledge's combined 20 kills and 23 digs. However, she was quick to defer any credit for the late surge.
"I don't really think it was a one-person effort," she said. "I think we came together that day as a team with one common goal. There were various attributes from everyone."
Fellow senior Madee Walker joined Whitledge as a member of the All-KVL first team. Walker finished the year with 45 blocks and 38 service aces — both team-highs — and was second on the squad with 150 kills. Junior Marissa Martin earned an All-KVL honorable mention after leading the Chieftains with 392 digs.
The THS cross country team emerged from a "rebuilding year" with five All-KVL selections. Freshman Sophia Wetta, the Chieftains' only 4A state qualifier, earned first-team honors with her ninth-place finish at the league meet. Her regional time of 16 minutes, 13.53 seconds is the third-fastest time in school history.
Second-team honorees were senior Jeff Neal and sophomores Garrett French, Tressa Walker and Emily Williams.
Football postseason awards have not yet been announced. Per KVL rules, the 2012 All-League team cannot be released until all league teams have finished their seasons. Piper is still in the 4A playoffs and will play Eudora in the sub-state round on Friday. Awards will be posted when they become available.
Tonganoxie High fall honorees
Soccer
Matt Saathoff — First team All-State, First team All-Region, First team All-KVL
Keaton Truesdell — First team All-State, First team All-Region, First team All-KVL
Evan Stilgenbauer — All-State honorable mention, First team All-Region, All-KVL honorable mention
Asher Huseman — All-State honorable mention, First team All-Region, Second team All-KVL
Zack Tallent — First team All-KVL
Tyler Novotney — Second team All-KVL
Jeremy Fox — All-Region honorable mention
John Lean — All-KVL honorable mention
Volleyball
Jenny Whitledge — Second team All-State, First team All-KVL
Madee Walker — First team All-KVL
Marissa Martin — All-KVL honorable mention
Cross country
Sophia Wetta — First team All-KVL
Tressa Walker — Second team All-KVL
Emily Williams — Second team All-KVL
Garrett French — Second team All-KVL
Jeff Neal — Second team All-KVL