Chieftain wrestlers ready to build on last year's success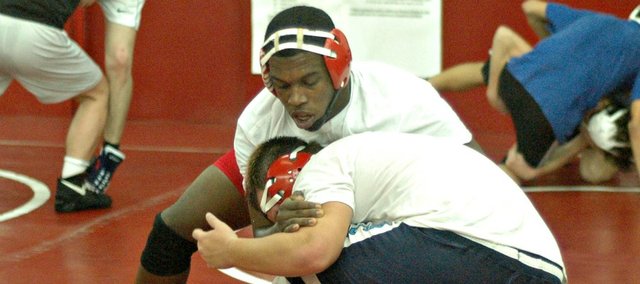 As far as success goes, Tonganoxie High's 2011-12 wrestling season was arguably the best in school history. With several key contributors back this season, the Chieftains could likely rewrite a few more pages in the school record book in the coming months.
THS returns more than half of its regular starters from last year's Kaw Valley League championship team. Also among the Chieftains' accomplishments a year ago was an undefeated record in dual competition, four tournament titles and a school-record eight state qualifiers.
With confidence and veteran leadership are already in place, coach Jeremy Goebel opened practice by stressing the importance of things that won't necessarily show up on the stat sheet.
"Right now, we're not doing anything except working hard," Goebel said. "We're talking about the little things that, if you're observing from the outside, you won't be able to see. As a coach, if we can fix those little things, it just adds to our demeanor and our nature on the mat."
Returning starters include junior Clayton Himpel (120 pounds), junior Joe Wolf (132), sophomore Asher Huseman (138), junior Luke Carey (160), senior Julius Coats (182), senior Thomas Miller (195), junior Zeke Kissinger (220) and senior Ty Barton (285). Himpel, Wolf, Huseman, Coats and Miller were Class 4A state qualifiers last season. Huseman earned the Chieftains' only state medal with a sixth-place finish.
Wolf is currently sidelined with a knee injury and isn't scheduled to return until January.
Weight classes have yet to be determined for the 2012-13, but THS had three wrestlers in the Kansas Wrestling Coaches Association's 4A preseason rankings. Himpel is ranked sixth in the 126-pound class, Huseman is fifth in the 152-pound class and Coats is sixth at 182.
Goebel's squad will no longer have the services of 2012 graduates Caleb Himpel (126), Adam Thomas (145), Matt Soetaert (152) and Ryan Lynch (170). The Chieftains will also be without sophomore Dalton Tavis (113), who has transferred out of state.
There is no returner at the 106-pound spot, which went unoccupied for the final four meets last season.
Wrestlers are currently competing for open varsity spots and, according to Goebel, the veterans have made the newcomers' transition relatively seamless in the opening days of practice.
"As a team, we look out our nucleus from every kid we had last year," he said. "It's a great for the new kids to get in there and gel right away with them, and that's what they're doing."
While a strong showing at this year's state meet obviously tops the Chieftains' list of goals, the team has plenty of things it wants to accomplish between now and February.
"As a team, we want to place in the top three of every tournament, but as individuals, we're all looking to peak in time for the last tournament," said Miller, one of six seniors. "It's going to take a lot of mental toughness, and that comes from the practice room. You can either push yourself through the last few minutes, or you can let up."
The Chieftains earned top-three team finishes in all but one tournament a year ago.
THS will begin its quest for improvement on Dec. 1 at the Wamego Invitational — a tournament it won to open the 2011-12 season. In the meantime, Goebel will continue to place emphasis on the work ethic and team unity that led to so much success a year ago.
"They know it's going to take from No. 1 all the way down to No. 30 to get it done, in and out of the wrestling room," he said. "Everything we do has got to be centered around hard work. We're kind of using the phrase 'embrace the grind.' We've got to be ready to grind two weeks from Saturday in Wamego."
2012-13 THS wrestling schedule
Dec. 1 — at Wamego Invitational
Dec. 7-8 — at Eudora Tournament of Champions
Dec. 13 — at Santa Fe Trail
Dec. 15 — Tonganoxie Invitational
Jan. 5 — at Wildcat Classic (Louisburg)
Jan. 10 — at Spring Hill
Jan. 11-12 — at Bobcat Classic (Basehor-Linwood)
Jan. 19 — at Sadowski Tournament (Holton)
Jan. 26 — at Baldwin Invitational
Jan. 31 — at Bonner Springs
Feb. 9 — at KVL tournament (Lansing)
Feb. 15-16 — Regionals (TBA)