Whitledge to continue volleyball career at Wichita State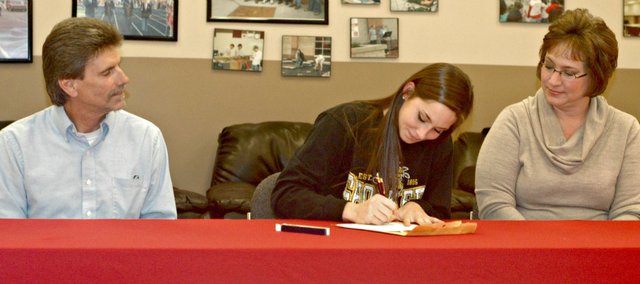 Since she arrived at Tonganoxie High in 2009, Jenny Whitledge has been a staple of the school's athletic scene. Whether it was in the gym or on the track, success came early and often for the Chieftain senior.
All that success paid off in a big way on Friday in the Chieftain Room, when Whitledge signed a national letter of intent to play volleyball for Wichita State University.
"It's been nerve-wracking all day," Whitledge said. "I've been thinking about it constantly. It really does feel good to know that my hard work has paid off and that I'm going to be an asset to another team."
In her senior campaign, Whitledge led the THS volleyball team to a sub-state championship game appearance. She was a statistical leader all season, as she paced the team with 407 kills, while finishing second in digs (224), service aces (37) and blocks (31.5).
Following the season, she was named to the Class 4A All-State second team by the Kansas Volleyball Association. It was the second consecutive KVA selection for Whitledge, who earned an honorable mention as a junior.
During her first three high school seasons, Whitledge developed her skills under the leadership of co-coaches Brandon and Tiffany Parker. Tiffany assumed all head coaching duties in 2012, but that didn't stop Whitledge from crediting both coaches for helping her achieve so much success.
"I think Brandon and Tiffany did a great job preparing me for college," she said. "I came in here my freshman year, being a little pipsqueak, but I have grown tremendously and I've learned so much about the game, it's unreal. I do feel prepared to go off to college and play, and I feel like I have every kind of tool that I need that they've prepared me with over the last four years."
Whitledge's accolades have hardly been limited to the volleyball court. She's been an All-Kaw Valley League basketball selection each of the last three years and is a back-to-back 4A state champion in the high jump.
"I think a lot of people will overlook that because so many people just want to specialize in one sport, but it shows that you can be a multi-sport athlete and achieve whatever it is you want to achieve," said Brandon Parker, who is also the THS athletics director. "We promote that here and we endorse it, and I am so proud of Jenny.
"Even in signing, she's continuing on to be a huge part of two more programs here at Tonganoxie. That is a true test of character that's easy for her to fail right now, but she's not."
During the school's offseason, Whitledge has continued honing her volleyball skills as a member of the Midwest Juniors Volleyball Club in Wellsville. She'll join a Wichita State squad that is currently 22-7 this season. The Shockers have appeared in the last five NCAA tournaments.
With her future plans now much more clear, Whitledge has officially shifted her focus to finishing her high school athletic career on top, both on the basketball court and the track.
"(Signing) definitely has helped clear my mind and everything, but it doesn't change the fact that I still have 110 percent to give in every other sport," she said. "I've been dedicated for the last three years, and I'm going to keep being dedicated for the next year."