Chieftain girls will try to utilize experience in 2012-13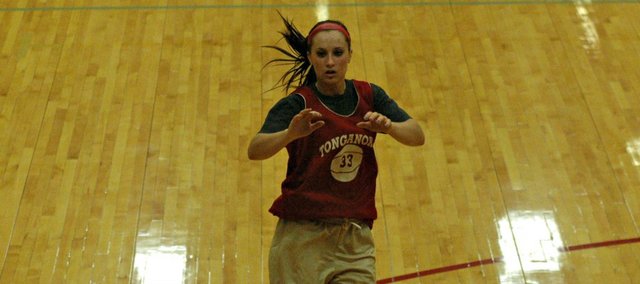 Last season, the Tonganoxie High girls basketball team proved that youth didn't have to define a season. The Chieftains will field a slightly older squad in 2012-13, and they'll try to translate their increased experience into increased success on the hardwood.
A trio of seniors headline a THS squad that went 16-7 last season and fell one game short of a state tournament appearance. However, with two regular starters back and three more players who saw significant varsity minutes, there is plenty of optimism surrounding the gym as the start of the season draws closer.
"It feels awesome. It's nice to be back in the gym, getting ready for the season to start again," senior guard Hannah Kemp said. "Everyone always says we want to go to state, but since we have such a seasoned team, I think it's better for us. Everybody is really strong about wanting these goals. It's something that's actually pretty close and we have the potential to reach, so I think everyone will be pushing a little harder so that we can attain those goals."
Kemp led the team with 4.5 assists per game in 2011-12. She also chipped in 6.5 points and 2.9 rebounds in a team-high 29.5 minutes per contest. She joins fellow senior Jenny Whitledge as the team's only two returning starters. Whitledge, who saw time at guard and forward, led THS in scoring (12.3), rebounding (8.6) and steals (2.3) while averaging 22.8 minutes per game.
In addition to Kemp and Whitledge, THS returns three players who saw action in at least 20 games last season. Senior guard/forward Madee Walker played in every game, averaging 2 points, 1.4 rebounds and 1 assist in 12.8 minutes. Junior forward Katelyn Waldeier averaged 3 points and 3.1 rebounds in 9 minutes, and junior guard Emily Soetaert averaged 1.6 points and 1.1 rebounds in 8.3 minutes. Waldeier and Soetaert each played in 20 games.
Other varsity hopefuls include junior Kara Banks, as well as sophomores Sarah Ahart, Tressa Walker and Meghan Jackson. Banks saw time in eight games last season.
"We've got basically six kids with quite a bit of experience," said coach Randy Kraft, who enters his 11th season at THS. "Five of them played a lot of varsity ball last year. They're going to have to get it done, especially early in the season. We're going to spell them with some other kids until we can get them up to varsity level, but we're going to rely on them."
Despite losing Amanda Holroyd and Haley Smith to graduation, the Chieftains return plenty of experience at guard. However, they'll have to battle a lack of depth at forward. In addition to the loss of 2012 senior Tavia Brown, who started every game in the paint last season, Kraft's squad will be without junior Emma Stilgenbauer. Stilgenbauer started every game as a sophomore, but has since transferred.
With limited options available in the frontcourt, Kraft will look for productive minutes from Waldeier, whom he praised for her progress since the end of last season.
"Katelyn has done an outstanding job," he said. "She's a kid who worked hard on it all summer long. As a coach, you hope they maintain or improve a little bit, but she's improved a lot. She's going to be a big factor for us this year."
The Chieftains will open their 2012-13 campaign with three consecutive home games, starting Nov. 30 against Kaw Valley League opponent Lansing. In the meantime, Kraft said he'd like to see reserve players continue to show they can compete at the varsity level. Additionally, he emphasized the importance of players preparing themselves to step in at more than one spot.
"Every kid we have is really good at what they do, but we don't have the kids on the floor who can play multiple positions," he said. "That's probably our biggest downfall we have. Up to this point, most of them have been playing one or two positions, but that's about it. It's something we're going to have to develop in some of the players."
THS girls basketball schedule
Nov. 30 — vs. Lansing
Dec. 11 — vs. Piper
Dec. 14 — vs. Basehor-Linwood
Dec. 18 — at Bishop Ward (KCKCC)
Dec. 20 — at Anderson County (Garnett)
Jan. 5 — vs. Metro Academy
Jan. 8 — vs. Bonner Springs
Jan. 11 — at Turner
Jan. 14-19 — Tonganoxie Invitational
Jan. 25 — at Atchison
Jan. 29 — at Lansing
Feb. 1 — at Mill Valley
Feb. 5 — at Basehor-Linwood
Feb. 8 — at Piper
Feb. 12 — vs. Turner
Feb. 15 — vs. Bishop Ward
Feb. 19 — vs. Mill Valley
Feb. 22 — at Bonner Springs
Feb. 25-March 2 — Sub-state (TBA)