THS

boys to feature new-look roster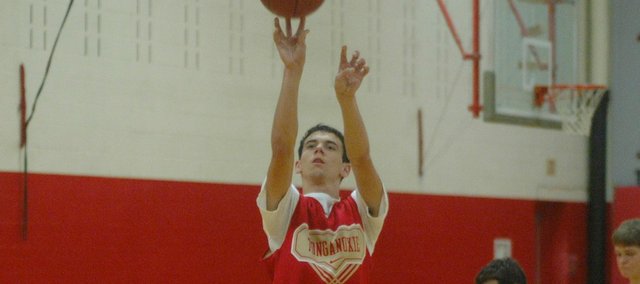 When the Tonganoxie High boys basketball team takes the court for the first time this season, it will do so with a starting lineup that barely resembles that of 2011-12. With six players lost to graduation and several new additions to this year's roster, changes will be evident at nearly every turn.
The Chieftains' new-look team enters a new season in hopes of building on last year's 11-11 campaign. Coach Shawn Phillips' squad won't have much experience when the season begins, but with several players vying for varsity spots, there's still reason for optimism.
"We went through a full summer of work, and it's always good to get back on the court," Phillips said. "We've got a lot of new faces this year, so we're really excited to see how that all shakes out. I think we have lots of kids that can contribute, but it's a matter of figuring out what that combination is going to be and who wants to go earn those minutes."
Phillips must replace a 2012 senior class that accounted for nearly 56 percent of the Chieftains' scoring last season. That group includes forward Dane Erickson, who led the team in scoring (16.8 points per game) and rebounding (8 per game) last season.
Current senior guard John Lean will begin the year as the Chieftains' most experienced player. Lean played in all 22 games last year, including 21 starts. He averaged 10.2 points — more than any other returning player — and a team-high 4 assists per game a year ago.
Juniors Eric McPherson and Tyler Ford also played in every game last season. McPherson, a forward who recorded eight starts, averaged 5 rebounds per game to lead all returners. He also added 4.8 points in 16.5 minutes per game. Ford, a guard, chipped in 3.8 points and 2 assists in 18.7 minutes per contest.
"We've got to have John Lean do some things for us since he's the most experienced player," Phillips said. "McPherson and Ford, those guys played a lot, too. They've been there, so hopefully they'll rise to the occasion."
Other players who saw varsity time last season include senior Keaton Truesdell, junior Eric Tate and sophomore Jared Sommers.
A trio of newcomers, including two upperclassmen, will also be in the hunt for varsity minutes when the season begins. Senior Blair Mathisen transferred to THS from Lansing last year, and junior James Grizzle arrived in September. Freshman Jack Dale will also look to contribute during his first high school season.
With multiple players preparing for their first-ever varsity games in a Chieftain uniform, those with previous experience have tried to make for a seamless transition during the first few weeks of practice.
"We want to pick up where we left off from last year, then just try to help the younger guys feel more comfortable when they come in," Lean said. "It's coming along. It's a slow process, but it's starting to picking up a little bit more and we're getting used to it."
THS will face a tough test in its first game of the season — a Nov. 30 home date with Lansing that begins a three-game homestead. The Class 5A Lions went 20-5 last season, including a 12-2 mark in Kaw Valley League play. Following the season opener, the team won't play again until Piper comes to town on Dec. 11.
As the Chieftains' first game draws closer, Phillips said he'll stress the importance of learning how to perform well as a cohesive unit.
"We've got to get tougher and learn to compete well," he said. "Sometimes, when we face a little adversity, we don't handle that very well. Lansing is a very good team. They're going to give us a great shot no matter what, so we've got to be able to run our stuff. It's there, but we've got to play."
THS boys basketball schedule
Nov. 30 — vs. Lansing
Dec. 11 — vs. Piper
Dec. 14 — vs. Basehor-Linwood
Dec. 18 — at Bishop Ward (KCKCC)
Dec. 20 — at Anderson County (Garnett)
Jan. 5 — vs. Metro Academy
Jan. 8 — vs. Bonner Springs
Jan. 11 — at Turner
Jan. 14-19 — Tonganoxie Invitational
Jan. 25 — at Atchison
Jan. 29 — at Lansing
Feb. 1 — at Mill Valley
Feb. 5 — at Basehor-Linwood
Feb. 8 — at Piper
Feb. 12 — vs. Turner
Feb. 15 — vs. Bishop Ward
Feb. 19 — vs. Mill Valley
Feb. 22 — at Bonner Springs
Feb. 25-March 2 — Sub-state (TBA)