McLouth girls focus on basics as season begins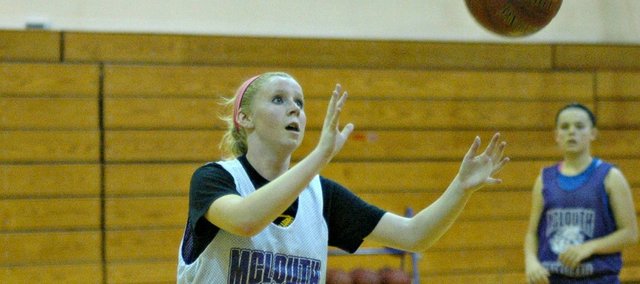 McLouth — When Lindsay Graf took over the McLouth High girls basketball team in May, she knew she'd have to rebuild the program from the ground up. It's been a slow process, but with the Bulldogs' first game on the horizon, progress is starting to become evident.
Since the Bulldogs officially opened practice earlier this month, Graf has been hard at work with 13 players determined to improve on last year's 3-18 finish.
"They're getting better and we're seeing improvement," Graf said. "A lot of it is just them believing in what they're capable of doing. It's not because of anything we taught them other than proving to themselves that they're capable of getting it done. That positive attitude is huge."
This year's MHS roster includes just two seniors in Kaitlyn Hullinger and Katie Hayden. Hullinger was a regular starter last season, while Hayden is new to the program. Other players who saw varsity minutes in 2011-12 are juniors Kayla Steffey and Konner Patterson, as well as sophomores Angela Dailey and Summer Cerny.
Graf's starting lineup is seemingly in place, but she must still replace roster spots left by 2012 seniors Terri Stewart, Morgan Drinnon and Kami Wisdom. All three graduates were regular starters a year ago.
The Bulldogs will open their 2012-13 schedule on Nov. 30 at Heritage Christian — a team they defeated last season, 58-30. The Bulldogs' first home action is scheduled for Dec. 4 against Delaware Valley League foe Jefferson County North.
In the meantime, Graf will continue to focus on basic fundamentals and, perhaps more importantly, consistent improvement.
"We kind of have an implementation plan of at least making sure we have everything covered — from how to do a jump ball and how to come to a timeout to what plays we're going to run," she said. "We've already talked about and we'll continue to emphasize that we should be better in December than we are on Nov. 30.
"We'll continue to add various facets to the game, but we're starting at the very basic level. Just like building a house, we've got to have that foundation before we can go anywhere."
MHS girls basketball schedule
Nov. 30 — at Heritage Christian
Dec. 4 — vs. JC North
Dec. 7 — vs. Maranatha
Dec. 11 — vs. Atchison
Dec. 14 — at Troy
Dec. 18 — at Oskaloosa
Jan. 4 — vs. Horton
Jan. 8 — at Pleasant Ridge
Jan. 11 — at Doniphan West
Jan. 17 — at Maranatha
Jan. 22 — at JCN tournament (Quarters)
Jan. 25 — at JCN tournament (Semis)
Jan. 26 — at JCN tournament (Finals)
Feb. 1 — vs. Riverside
Feb. 5 — vs. KC Christian
Feb. 8 — vs. Jackson Heights
Feb. 12 — at ACCHS
Feb. 15 — vs. Immaculata
Feb. 19 — at Maur Hill
Feb. 22 — at Valley Falls
Feb. 25-March 2 — Sub-state (TBA)