Five McLouth wrestlers debut as Oskaloosa sweeps home triangular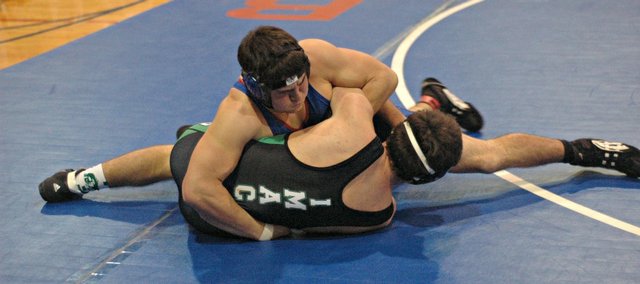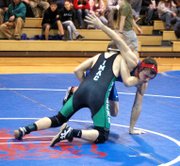 Oskaloosa — All throughout last season, the Oskaloosa wrestling team lost duals before they even started. With just six varsity wrestlers on the 2011-12 roster, the Bears were forced to forfeit more matches than they could wrestle, making team victories impossible form the beginning.
With all 14 varsity spots occupied this season, coach Jerrod Bammes' squad got to experience the other side of the spectrum in Tuesday's season-opening triangular against Delaware Valley League opponents Wathena-Riverside and Leavenworth-Immaculata. OHS started its season off on the right foot with back-to-back wins against the Cyclones (60-19) and Raiders (57-24).
"It's the complete opposite end (from last season)," Bammes said. "It actually feels good to be on the other side."
Oskaloosa opened the night against a Riverside squad that was open in seven different weight classes. The Cyclones needed to record pins in all seven matches to force a tie, but that attempt was quickly extinguished. McLouth sophomore Jeran Sharp was pinned by Sheldon Harris in the 113-pound match, then Oskaloosa's Kody Helton (132) and Dusty Bammes (138) fell to Dillon Logston and Dalton Resler, respectively.
OHS senior Lance Hickman (170) got the Bears' first victory when he pinned Britain Wendt, but Riverside's Brandon Meyers (182) answered with a pin of McLouth sophomore Chris Blitch. McLouth senior Wyatt Farris (195) came away victorious in his first match, pinning James Snodgrass, and Bear sophomore Hunter Knopp (285) wrapped up the dual with a pin of Dakota Walker.
Only six matches took place in the Bears' dual with Immaculata. The Raiders opened with four straight pins, but Hickman ended the streak with a pin of Sam Linder. Farris ended the Bears' night with a 6-1 win against Dakota Frick to improve to 2-0 on the young season.
"It feels pretty good. I actually had to wrestle to get my 2-0," Farris said. "In practice, you're a lot more tired, but when you get into a match, you're actually ready because you know how tired you are and how tired you can get. I've got to work on the moves. I know I can overpower people, but I've got to learn the moves."
The triangular marked the first-ever high school wrestling action for McLouth athletes Farris, Blitch, Sharp, Wyatt Troupe and Josh Swanson. All five wrestlers competed in at least one varsity match.
With two duals now in the books, the Bears will be able to return to the practice room with a better understanding of where improvements need to occur before their next action — a Saturday trip to Atchison.
"When you're in the wrestling room, you think you're up to one point," Jerrod Bammes said. "But until you face live competition, you never really know where you're at. Today gave us a really good foothold on what we need to address for the rest of the week in practice. We know where not very good off the bottom and our stamina isn't there at all. It's little things, but we now know where we need corrections. That's what we'll use this for, and we'll get there."
Oskaloosa 60, Riverside 19
106 — Cole Chess (OSK) vs. Open
113 — Sheldon Harris (RIV) pinned Jeran Sharp (OSK)
120 — Mark Nickels (OSK) vs. Open
126 — Norton Dick (OSK) vs. Open
132 — Dillon Logston (RIV) def. Kody Helton (OSK), 19-7
138 — Dalton Resler (RIV) def. Dusty Bammes (OSK), 4-0
145 — Ben Harvey (OSK) vs. Open
152 — Josh Swanson (OSK) vs. Open
160 — Wyatt Troupe (OSK) vs. Open
170 — Lance Hickman (OSK) pinned Britain Wendt (RIV)
182 — Brandon Meyers (RIV) pinned Chris Blitch (OSK)
195 — Wyatt Farris (OSK) pinned James Snodgrass (RIV)
220 — Alberto Rodriguez (OSK) vs. Open
285 — Hunter Knopp (OSK) pinned Dakota Walker (RIV)
Oskaloosa 57, Immaculata 24
106 — Cole Chess (OSK) vs. Open
113 — Jeran Sharp (OSK) vs. Open
120 — Mark Nickels (OSK) vs. Open
126 — Paul Gilbert (IMA) pinned Norton Dick (OSK)
132 — Jared Clothier (IMA) pinned Kody Helton (OSK)
138 — Dusty Bammes (OSK) vs. Open
145 — Ben Harvey (OSK) vs. Open
152 — Bruce Stanley (IMA) pinned Josh Swanson (OSK)
160 — Max Campbell (IMA) pinned Wyatt Troupe (OSK)
170 — Lance Hickman (OSK) pinned Sam Linder (IMA)
182 — Chris Blitch (OSK) vs. Open
195 — Wyatt Farris (OSK) def. Dakota Frick (IMA), 6-1
220 — Alberto Rodriguez (OSK) vs. Open
285 — Hunter Knopp (OSK) vs. Open