McLouth boys aim to utilize experience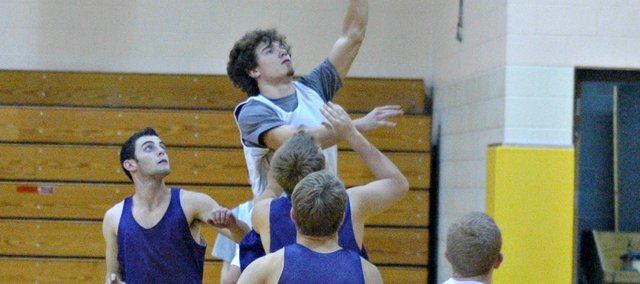 McLouth — Thanks to a successful football season, there was very little time for McLouth High athletes to transition from the gridiron to the basketball court. There were some positives and negatives to the quick turnover, but nonetheless, the Bulldogs are finally at full strength on the hardwood.
Several members of coach Jason Schroeder's squad had to miss early practice time while nursing various injuries, but with everyone back on the floor, practice is in full swing with the season opener at Heritage Christian Academy just two days away.
"I thought we were in pretty good shape, but we had five kids who were pretty banged up and had to sit out a few days of practice," Schroeder said of the shaky start. "Once we can get a little basketball experience and we're healthy, we've got a solid core group of guys."
Schroeder must replace a trio of 2012 graduates, including Gavin Swearngin, Shawn Dailey and Calvin Booth. Swearngin was the team's leading scorer in his final season.
The 2012-13 Bulldog roster includes three seniors in Carter Gish, Dakota Cop and Marc Walbridge. All three were regular starters on last year's 10-11 team. Junior Nick McAferty, junior Drew Cerny and sophomore Jack Courtney are also back after logging significant varsity minutes a year ago.
With several young players also in the mix for varsity spots — there are eight sophomores and five freshman on the team — Schroeder will rely on his seniors and other veterans to not only put up big numbers, but also maintain a high level of competition throughout the season.
"Obviously, the same thing every coach wants to see from their seniors is leadership, and I don't just mean vocal," he said. "I just need them to practice hard every single time and set a good example, and I expect those guys to be able to score, too. There's no reason why they can't average 10 or 12 points a game."
The Bulldogs will begin their season against a Heritage Christian team they defeated last season, 49-39. Their first home game will be Dec. 4 against Delaware Valley League opponent Jefferson County North.
While he admitted progress will likely have to continue through the first few weeks of the season, Schroeder hopes to see his team continue to move in the right direction in the practices left before it travels to HCA.
"We're not nearly as far as we want to go. We've got a long way to go," he said. "We're still trying to figure out where we need to be and when we need to be there. This week, I want to see us get in the right spots and learn how to execute all of our plays. I need guys to be quicker on defense. We either get lazy or lose sight of the basketball, but we've got to fix that now. It might take us until Christmas break, but I think we'll get there."
2012-13 MHS boys basketball schedule
Nov. 30 — at Heritage Christian
Dec. 4 — vs. JC North
Dec. 7 — vs. Maranatha
Dec. 11 — vs. Atchison
Dec. 14 — at Troy
Dec. 18 — at Oskaloosa
Jan. 4 — vs. Horton
Jan. 8 — at Pleasant Ridge
Jan. 11 — at Doniphan West
Jan. 15 — McLouth Invitational (Quarters)
Jan. 18 — McLouth Invitational (Semis)
Jan. 19 — McLouth Invitational (Finals)
Jan. 24 — at Maranatha
Feb. 1 — vs. Riverside
Feb. 5 — vs. KC Christian
Feb. 8 — vs. Jackson Heights
Feb. 12 — at ACCHS
Feb. 15 — vs. Immaculata
Feb. 19 — at Maur Hill
Feb. 22 — at Valley Falls
Feb. 25-March 2 — Sub-state (Oskaloosa)