McLouth wrestlers join with
OHS

for first season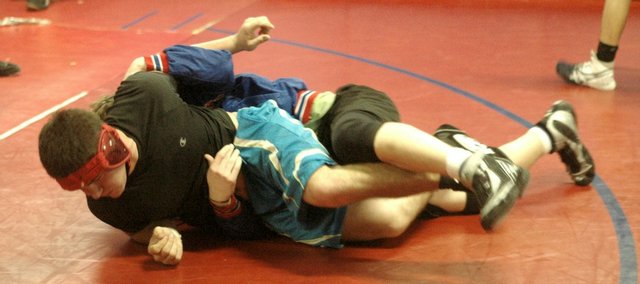 For many, many years, the basketball court has been the only available venue for McLouth High athletes during the winter season. This year, though, the Bulldogs have another option.
Thanks to some help from a fellow Delaware Valley League school, wrestling has been made available to MHS students for the first time ever. The Bulldogs will co-op with Oskaloosa High for the 2012-13 season. The move is somewhat of a trade-off, as OHS sent athletes to McLouth for the 2012 cross country season.
"It's the first time we've ever done it," Oskaloosa coach Jerrod Bammes said. "What I like about it is the fact that these McLouth kids come in here with a whole different attitude. They've got drive and ambition, and it's bleeding over into our kids."
McLouth seniors Wyatt Farris and Josh Swanson headline a list of 10 Bulldogs on the team. Others are junior Robbie Taylor, sophomores Jeran Sharp, Wyatt Troupe, Chris Blitch, Griffin Hayden, John Bullock and Jake Copeland, and freshman Sergio Hernandez. In total, the team currently has 28 wrestlers.
The Bears had just six wrestlers on the varsity squad in 2011-12. With much larger numbers and a heightened level of intensity during practice, Bammes is hopeful his squad will experience a significantly higher level of success than it has in previous seasons.
"I'm looking for (the McLouth kids) to push our kids, which they're already doing," he said. "I'm looking for energy, which they're already giving. What we've been missing the last couple of years is competition within the room. Five of (the varsity wrestlers) got within one match of state last year, but if we have the drive and the push and actually have a full team, we could do something this year."
All wrestlers will compete in Oskaloosa uniforms for the duration of the regular season, but according to Kansas State High School Activities Association rules, McLouth wrestlers must wear separate uniforms when postseason competition arrives. That includes the DVL meet, as well as the regional tournament.
Since practices began on Nov. 12, Bammes has been familiarizing new wrestlers with the basic fundamentals of the sport. To speed up the process, he's utilized the experience of his veteran wrestlers, such as his son, OHS sophomore Dusty Bammes, who has wrestled for 13 years.
Farris, who has never wrestled before this season, said the transition into the sport has been relatively seamless.
"I'm new to wrestling, but I've always wanted to do it," he said. "They've just been pushing us into it. We're just learning from scratch. I'm just trying to focus and learn what moves I'm going to do when I'm wrestling somebody."
The team opened its season on Tuesday with a double dual at home. Its next action is set for 9 a.m. Saturday at Atchison.
2012-13 OHS/MHS wrestling schedule
Nov. 27 — at Oskaloosa
Dec. 1 — at Atchison
Dec. 8 — at Onaga
Dec. 15 — at Tonganoxie
Jan. 5 — at Burlington
Jan. 19 — at Holton
Jan. 26 — at Atchison
Jan. 31 — at Riverside
Feb. 9 — at DVL meet (Doniphan West)
Feb. 15-16 — Regionals (Onaga)