McLouth football back on track after win vs. Rams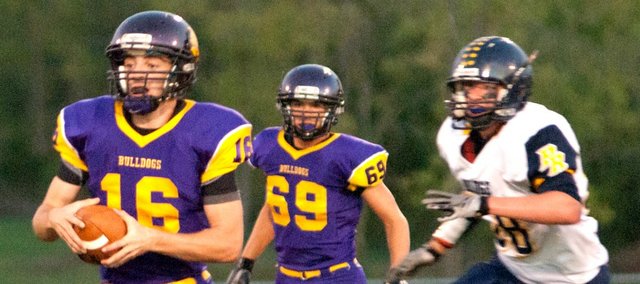 The McLouth High football team got back into the win column with a 47-20 victory Friday against Pleasant Ridge.
Senior quarterback Marc Walbridge led the Bulldogs (4-1, 2-0 Delaware Valley League) with 360 passing yards and six touchdowns, including five to junior Nick McAferty. Walbridge also made some noise on the ground, carrying the ball nine times for 95 yards.
The Rams opened scoring with a 66-yard touchdown run by Blake Graham in the first quarter, but MHS answered when Walbridge found junior Nick McAferty for a 16-yard score later in the period. The Bulldog signal caller put his squad in control with two more touchdown passes in the second quarter — a 72-yard bomb to McAferty and a 63-yard strike to fellow senior Dakota Cop. That gave MHS a 22-6 lead, which it took into halftime.
Walbridge hooked up with McAferty again to open the third quarter — this time from 28 yards out — to extend the Bulldogs' lead to 28-12. Pleasant Ridge's Riley Holmes answered with a 54-yard touchdown run, but Walbridge found McAferty again for a 24-yard score.
The duo connected again for a pair of fourth-quarter touchdowns, which bookended a 30-yard scoring run by Graham.
While the final outcome was never in question, MHS coach Chris Stewart admitted the Bulldog defense had some trouble with Pleasant Ridge's rushing attack — particularly on runs to the outside.
"I think we did pretty well against their dives and stuff like that, but (Graham) is really quick and shifty. We had some difficulty containing him. We have some work to do on our outside edges."
McAferty, Walbridge's top target all season, finished with 12 catches for 222 yards. Cop added five catches for 138 yards. McLouth finished the game with 564 yards of total offense.
"We had a little bit of an advantage in our passing game," Stewart said. "It was a good opportunity for us to throw some more than we usually throw. When something is going good, you just stay with it."
The Bulldogs will be at home again on Friday when they open district play against Jefferson County North (4-1, 2-0). They have won their last two meetings with the Chargers, including a 41-6 victory last season.
"(The players) understand that the stakes are a little bit higher," Stewart said of district play. "I would expect them to start doing a lot more, and the coaches will do the same thing. We want to get out of this thing with some wins."